Imprisoned rapper Hasel 'satisfied' with 'wave of outrage' at protests
At least 15 arrests were made, and 33 protesters and 17 police officers injured during night's unrest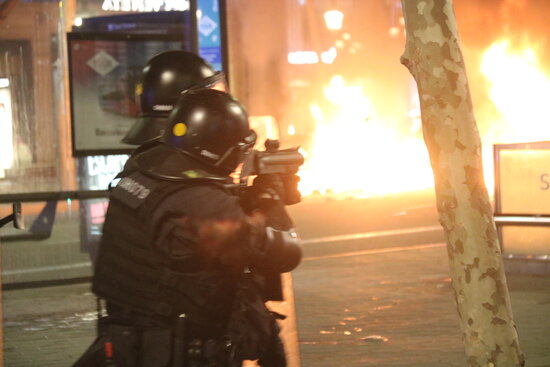 Pablo Hasel is "satisfied" after his first night in prison as he feels he has unleashed a "wave of outrage" against Spanish institutions "reminiscent of the Franco dictatorship," seen during the protests that were seen across Catalonia.
Demonstrations turned into clashes between protesters and police in many cities including Barcelona, Girona, Lleida, and Vic, with at least 15 arrests made, and at least 33 people receiving medical attention. 17 police officers were also injured through the night.
The rapper's lawyer, Diego Herchhortn, said in an interview with the Catalan News Agency that Hasel is pleased he managed to "break the barrier" of questioning which institutions in Spain are untouchable.
Pablo Hasel was taken to the Ponent Penitentiary Center on Tuesday after police arrested him in the University of Lleida, where he had barricaded himself. The musician had been given ten days to voluntarily enter prison after being sentenced to 2 years and 9 months for "glorification of terrorism" and "slander against the Spanish crown" and law enforcement.
Herchhortn explained that Hasel has spoken to his family and that he is aware of all the protests that took place as a result of his imprisonment. Hasel is satisfied with the demonstrations as that was his intention, and believes that the "wave of outrage" may have surprised many but "is a reality."
Herchhortn noted that throughout this Wednesday he plans to speak with Pablo Hasel in order to establish an open "communication channel" with everything that is happening outside as a result of his imprisonment.
Colau shares anger, condemns violence
The mayor of Barcelona, meanwhile, says she shares the "anger" felt by protesters for the imprisonment of Hasel, but reiterated that violence "is not the way."
"The riots won't get him out of prison and are never justified," Ada Colau said on Rac1 radio station.
On a first count made, Barcelona city council has found 53 rubbish containers were burned in the Catalan capital and around 120 were withdrawn preventatively, at a total cost of €70,000 to the council.
Spanish govt admits "problem" for image
Sources close to the Spanish executive admit that the imprisonment of rapper Pablo Hasel is "a problem" for the image of Spain.
They say that the executive is working on a reform of the penal code as soon as possible so that such crimes of expression do not carry prison sentences.
According to these sources, "no one understands" the situation of Hasel, who is serving a sentence of two years and nine months in prison for the contents of his songs and tweets.
The problem, they point out, is that current legislation allows for interpretations that lead to prison sentences.
However, these sources still doubt whether the promised reform will be included in an amendment to the Penal Code - a fact that would delay its processing - or whether it is necessary to bring to Congress a timely reform of this issue.
Interior minister calls for peace
Miquel Sàmper, Catalonia's interior minister, called for social peace after the protests that he believes overstepped the limit.
Sàmper acknowledged that sometimes protests can cause inconvenience, but warned that "with violence, we cannot guarantee fundamental rights."
With further protests scheduled for Wednesday evening, the JxCat minister urged for peace. "The right to protest must always be peaceful. Violence should never be used nor permitted. There's nothing to justify it."
Vic mayor: protests "crossed a line"
The mayor of Vic, Anna Erra, expressed that the protests "crossed a line."
Vic was the scene of four arrests of demonstrators, and eleven injuries to police officers, and where a Catalan police station was attacked.
Erra believes that the attack on the police station was the work of a "small group of people very well prepared."