How has the coronavirus affected Catalonia?
No public health concern, but still noticeable economic and social repercussions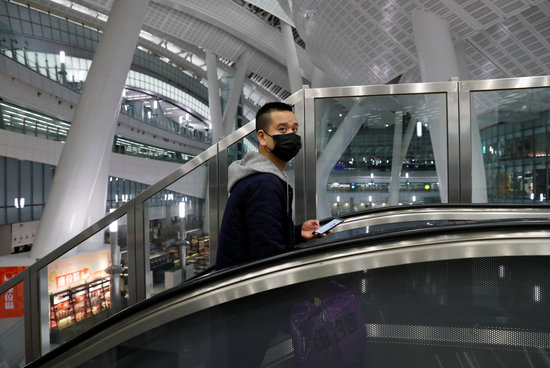 News of a new virus, the covid-19 coronavirus, that was first diagnosed in Wuhan and that already has more confirmed cases than SARS during the 2003 outbreak and a death toll of over 1,500 to date, mainly in China, has had a ripple of social and economic effects throughout the world.
And while, as of yet, nobody in Catalonia has been diagnosed with it, it would be untrue to say the virus hasn't had an impact here, namely with the cancellation of one of the world's biggest mobile fairs, the Mobile World Congress (MWC).
Economic impacts: Mobile World Congress and beyond
"It is very clear that the GSMA organization made this decision due to the coronavirus disease. It is impossible for us to hold the event," explained John Hoffman, CEO of the company that organizes the Mobile World Congress, at a press conference on the reasons behind the decision.
The local economy will undoubtedly take a big hit due to the cancellation, which is estimated will cost the city as a whole half a billion euros in revenue that has been lamented by authorities, business associations, and unions alike.
Among those most adversely affected by the move Catalan president Quim Torra has attributed to an "epidemic of fear" are the hotel and taxi sectors, among others, as well as people who were due to complete part-time jobs related to the fair, and Josep González, the president of SME business association Pimec, calculates that "losses for SMEs will surpass the 200 million euro mark."
The economic repercussions of the virus, however, have been seen elsewhere in Catalonia and do not only relate to the conference. For example, Joan Xiol of Peroxfarma, a Barcelona-based pharmaceutical company, says the situation has already meant serious losses for his business: "We have a monthly turnover of 200 to 250 million euros with China but fell short of our January forecast."
#Iamnotavirus makes its way to Catalonia
Beyond the financial cost, a number of people of Chinese heritage in Catalonia and other parts of Europe report to have experienced a greater amount of racist incidents, leading to the birth of the #Iamnotavirus online campaign denouncing these behaviors.
"Asian activists in different cities and countries are constantly condemning racism against the Chinese community and sinophobia that is being legitimized by the coronavirus situation," reads a post by the Catàrsia collective, one of the many groups and individuals that have taken to Twitter to shed light on the uptick in discriminatory attacks.
#yonosoyunvirus @wuhanjiayou
Activistas antirracistas asiátiques en diferentes ciudades y países están constantemente denunciado el racismo hacia la comunidad china y la sinofobia que se está legitimando con la situación del coronavirus: pic.twitter.com/op6JUqDB6R

— Catàrsia (@catarsiabcn) February 1, 2020
Others have also held events to show solidarity with those directly affected by the disease, including members of Chinese cultural associations in Barcelona who on February 12 sang a song and set up a canvas in the center of the city for people to write messages of encouragement.
Measures to prevent spread of disease
Many people with ties to China have taken it upon themselves to take measures to prevent the spread of disease, be it by wearing face-masks or even by remaining in self-imposed quarantine if they have been to China recently.
Nazha Meziane, a pharmacist in the Fort Pienc neighborhood of Barcelona known for being home to a large amount of Barcelona's over 20,000 Chinese nationals, has noticed these changes among her clientele.
"Lately we've sold so many [face-masks] that they've sold out, we don't have anymore. Aside from that, there's also hand sanitizer - those are the two things we've completely run out of," she explains, adding that it might take the pharmacy up to 4 weeks to replenish stocks she says are in high demand among both neighborhood locals and frequent travelers.
Lam Chuen Ping, president of the Unió d'Associacions Xineses a Catalunya, also says many Chinese residents in Catalonia have taken action to halt the spread of the virus out of a sense of "responsibility."
Not only does he describe how people have bought face-masks to send back to their home country, where stocks are running low, but says many who have recently returned from the country following the Chinese New Year celebrations have chosen to remain in self-imposed quarantine for 2 weeks.
Ping doesn't, however, believe the risk in Catalonia is that high and maintains that media reports have helped create "a sense of psychosis" by overplaying the risks posed by the virus. "It's not the virus of the century," he adds.
Long-term effects of virus
As a fluid and ongoing situation, just how it will continue to develop - When will the outbreak peak? And when will effective treatment become available? - as well as what the long-term consequences for Catalonia and the rest of the world will be remains to be seen.
But for now, one thing is sure: if a public health crisis originating in China has been able to send such strong tremors across our globalized world, it demonstrates the extent of our interdependence and is proof of just how big of a player the Asian powerhouse actually is.