Barcelona shows solidarity with Coronavirus victims around the world
Event in city center sees blank canvas filled with messages of support for those in China and elsewhere affected by the disease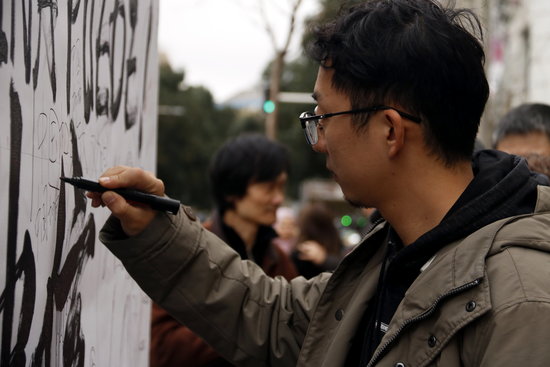 The Coronavirus outbreak in China has so far taken over 1,000 lives and caused widespread disruption as whole cities have been closed off, with millions restricted to their homes.
Scientists are still trying to learn more about the Coronavirus, or Covid-19 as the disease caused by the virus is called, but what is certain is that outbreak is a disaster for China.
To show "support, affection and solidarity" with the Chinese and those other people around the world affected by the disease, an event took place in Barcelona on Wednesday.
Starting at 3pm on Portal del Àngel, near Plaça Catalunya, in the city center, people were encouraged to gather to transmit their "energy, strength, and love" to those affected.
The event was also meant as "a gesture of trust" aimed at those people "fighting tirelessly" to save the lives of those affected by the virus and to contain the disease.
During the event, a large blank canvas was unfurled upon which was written a message of support and encouragement in Chinese, Catalan and Spanish.
People attending the event were also invited to add their own "messages of love and solidarity" to the canvas, for the disease's victims and their families.