Hospitalized Covid patients fall below 2,000 for first time in a month
Number in ICUs now below 500 but authorities aim for under 300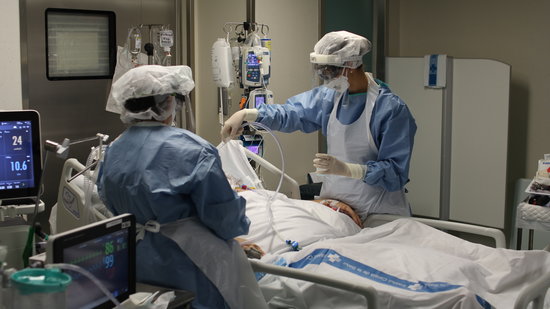 This Monday, November 23, saw the beginning of the latest de-escalation plan, the easing of some of the social measures in place to tackle the spread of Covid-19.
This gradual reopening was given the go-ahead due to the latest coronavirus data for Catalonia, which continues to demonstrate an encouraging trend, even if some figures do remain higher than authorities would like.
Covid-19 patients in hospital and ICUs
The number of people in hospital with Covid-19 has fallen below 2,000 for the first time in a month, standing at 1,951 on November 24. This is down from a peak of 2,793 on November 8.
It should be noted though that the number of Covid-19 hospitalizations only went above 1,000 (during the second wave) on October 13: having risen very slowly throughout August and September, it then shot up in mid-October.
As may be expected, the number of people in intensive care units (ICU) is showing a very similar pattern. On November 24, it dipped below 500 for the first time since November 5, down from a peak of 597 on November 10 to the latest total of 499.
Again, it is worth mentioning though that these figures are much higher than they were throughout August, September and early October, when there were between 100 and 200 Covid-19 patients in intensive care. Authorities say they want the number of ICU patients with Covid-19 below 300.
Transmission rate, outbreak risk and IA14
Let's look at three more figures that reflect how the pandemic is developing over time and that may be used by authorities when weighing up whether or not to make changes to the social measures in place.
First, the transmission rate, also known as the R number. If the R number goes above 1 that is an indication that the virus is spreading.
This figure saw a second-wave peak in Catalonia of 1.53 on October 25, and stands at 0.78 as of November 24. This means that, on average, every 100 people with coronavirus are passing it on to another 78 people.
Second, is the outbreak risk, for which anything over 100 is deemed 'high'. On November 24 this stood at 262, having fallen sharply from 904 on October 30. The next landmark will be to get below 200, a point last seen on October 4.
Outbreak risk (over 100 is high) and transmission rate (over 1 concerns authorities)
Third, the number of cases per 100,000 inhabitants in last 14 days, known as IA14 in Catalonia. This figure is one of two that informs the EU's traffic light maps, which Spain is using to determine from which countries in Europe travelers must present a negative PCR test.
Catalonia's IA14 on November 24 stood at 361.72, down significantly from a peak of 812.43 at the end of October, but, notably, still above the figures recorded during the first wave of the pandemic, which peaked just below 300 at the end of March.
Overall, the trend in all of these figures is in the right direction, but in many cases they are still much higher than authorities would like. The challenge is this: to continue to prevent the spread of the virus and keep these figures in check, while at the same time, gradually removing or reducing the social and travel restrictions that have brought the figures down in the first place.
Number of cases per 100,000 inhabitants in last 14 days