French prime minister advises citizens to avoid travel to Catalonia
Jean Castex says discussions are ongoing to limit the flow from Spain to France as much as possible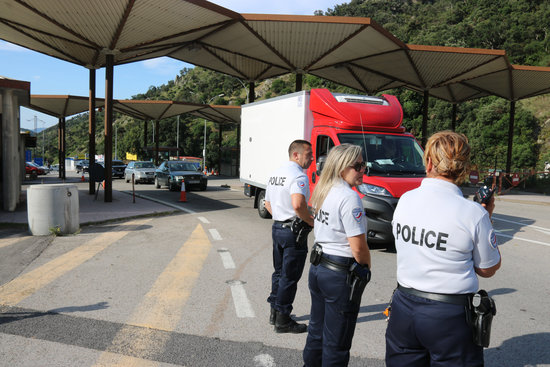 French prime minister, Jean Castex, has advised French citizens to avoid traveling to Catalonia due to the resurgence of Covid-19.
With the health picture worsening, Castex said that French authorities are "in discussion" with their Spanish and Catalan counterparts to "make sure that the flow from Spain to France remains as limited as possible."
Speaking during a visit to Charles de Gaulle Airport in Paris on Friday, the French prime minister said that border police will be vigilant in order to "protect citizens".
Spain: This is the "new normal"
Spanish foreign affairs minister, Arancha González Laya, responded to the comments, insisting that Spain remains safe and that "we are not talking about closing borders".
In an interview with CNN on Friday, Laya claimed that Spain is one of the countries with the most controls and mechanisms to identify new coronavirus outbreaks, that there were similar outbreaks in other countries and that this is the "new normal".
On Wednesday, Spanish tourism minister Reyes Maroto had said that she hoped a second closure of the border with France "is not necessary".
The border reopened on June 21 after being closed for three months due to the coronavirus pandemic.
"The latest figures available on the outbreaks in Aragon and Catalonia lead us to be more optimistic," Maroto remarked at a breakfast organized by Europa Press.
"We hope that with these better figures we do not have to close a border that for us is very important for freedom of movement with our European colleagues."
A meeting between Castex and Spain's vice president Carmen Calvo scheduled for Monday was postponed in a move that was seen as reducing the likelihood of the border shutting.
France running "brutal campaign"
The tourism sector in Girona, an area hugely popular with French visitors, accused French authorities of running a "brutal campaign" to dissuade people from holidaying in Catalonia.
The president of the Girona Hospitality Federation, Antoni Escudero, claimed that France always tries to encourage its citizens to take vacations within the country but that this year "it has risen to the umpteenth power" because France is lacking tourists.
Catalonia warns of crucial week ahead
The comments from the French prime minister come one day after Catalan health authorities warned that a crucial week lay ahead regarding the progression of the latest Covid-19 outbreaks, especially those in Barcelona and the metropolitan area.
"These are critical days," health secretary Josep Maria Argimon said, "not because UCIs are full like in March, but because of how the illness is developing."
"The issue now is whether we as citizens take steps to slow this development until we get it under control. What we can't do is have the curve shoot off," he added.
Norway imposes quarantine
Meanwhile the Norwegian government announced on Friday that from July 25 travelers arriving from Spain will have to quarantine for ten days. Norway excluded Spain from its list, updated every two weeks, of European countries that it considers to have a "low" risk of infection.