Health authorities warn of 'critical days' in attempt to curb virus spread
Outbreaks in Barcelona of particular concern as public asked to play their part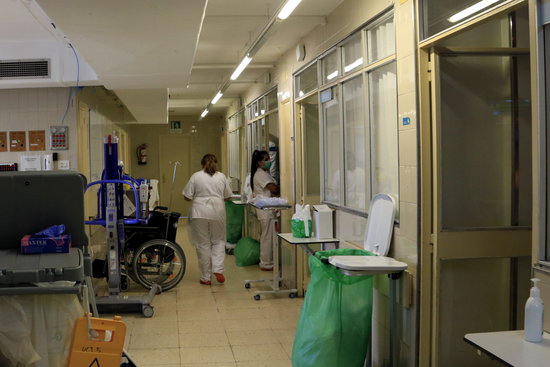 Catalan health authorities have warned that a crucial week lies ahead regarding the progression of the latest Covid-19 outbreaks, especially those in Barcelona.
Health secretary Josep Maria Argimon, health service director Adrià Comella, and Covid-19 coordinator Jacobo Mendioroz gave a press conference on Thursday outlining their concerns and asking the public to act sensibly over the coming days.
"These are critical days" Argimon warned, "not because UCIs are full like in March, but because of how the illness is developing."
"The issue now is whether we as citizens take steps to slow this development until we get it under control. What we can't do is have the curve shoot off," he added.
The latest data from the Catalan health department showed a large jump in new cases in the previous 24 hours, with 1,597 confirmed diagnoses contributing to a total of 86,891 cases, including antibody tests, since the beginning of pandemic. Funeral homes reported nine more deaths bringing the total to 12,661.
Authorities are particularly concerned about cases in Barcelona, and the southern region of its metropolitan area, where cases are increasing, like in L'Hospitalet de Llobregat and Cornellà de Llobregat, two towns the authorities mentioned during the press conference. Indeed, the districts of the capital closest to the border with L'Hospitalet are the ones worrying authorities the most. The other major outbreaks, in Figueres in the north and Segrià in the west, seem to be settling down.
Mendioroz is optimistic about how things are progressing in Segrià, but said it was "too early to say that the virus has been stopped.
"It's a very complicated outbreak," he added.
The trio also warned of increasing pressure on care services, saying that while for the moment the system is coping, the trend was worrying, and they therefore were urging people not to let down their guard.
Measures to curb nightlife, such as earlier closing times for bars, are still being considered.
Health system not stretched
Although the authorities are worried about how the pandemic may develop, with the data showing new diagnoses on the rise, the situation in hospitals is much better than in previous months, explained Argimon.
There are currently 437 hospital beds occupied by Covid patients, down from a high of 8,500 at the peak of the health crisis. The health system has a total capacity is 13,656.
A total of 61 Covid patients are currently in ICUs, very few compared to the peak of the pandemic when 1,529 were in intensive care. That dropped to a low of 40 just before the July outbreaks.