Footballer Alexia Putellas, basketball player Pau Gasol honored with Creus de Sant Jordi
Former TV3 director, Mort & Phil creator and pop rock band Els Pets also recognized for outstanding civic and cultural contribution to Catalonia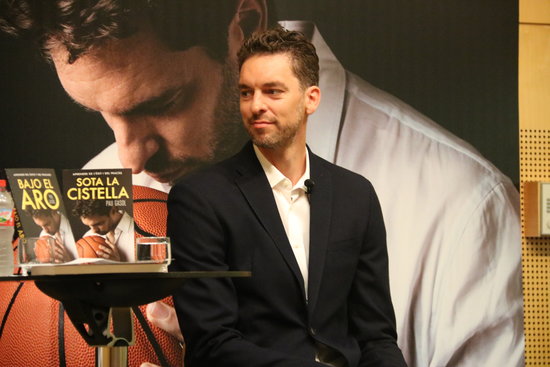 The footballer Alexia Putellas can't stop winning awards: just a few hours after becoming the first Catalan player to win the Ballon d'Or, she has been awarded the Creu de Sant Jordi, or Saint George's Cross, one of the most important civil honors given by the Catalan government that recognizes those that contribute to and enrich Catalonia's identity, usually from a cultural and civic point of view.
Putellas' leadership during FC Barcelona Femení's historic 2020-2021 season has earned her a place on this year's official list of recipients.
She is not the only sportsperson to be honored, with Pau Gasol, the recently retired basketball player, also set to receive the Creu de Sant Jordi.
Gasol is the most successful Catalan to ever play the game, winning two league titles during his 18 seasons in the NBA.
The distinction has also been bestowed on famed journalist Mònica Terribas, former director of public broadcaster TV3 and presenter of Catalunya Ràdio's morning program for seven years, and also on radio host and businessman Justo Molinero, who has built a whole communications group out of local music radio station Radio TeleTaxi.
Francisco Ibáñez, a comic book artist and writer best known for his comic series Mort & Phil (Mortadelo y Filemón), will also receive the civil award.
Other individuals on the list of recipients include paleographer Jesús Alturo, businesswoman and cultural promoter Mariona Carulla, actor Anna Rosa Cisquella, and the 106-year-old educator Isabel Etxebarría.
The Creu de Sant Jordi also awards groups, such as Els Pets, a pop and rock band that has been performing songs in Catalan for the past 36 years. The council of nurses' association, the Catalan swimming federation and the association of architects are some of the other entities receiving a Saint George's Cross.
Last year, those honored included artists, athletes, and chefs, and in 2019, former FC Barcelona star Leo Messi was the name in the list that made the headlines.