Barça's Alexia Putellas becomes first Catalan to win Ballon d'Or
Former Barcelona star Messi awarded 7th trophy while Pedri named best footballer under 21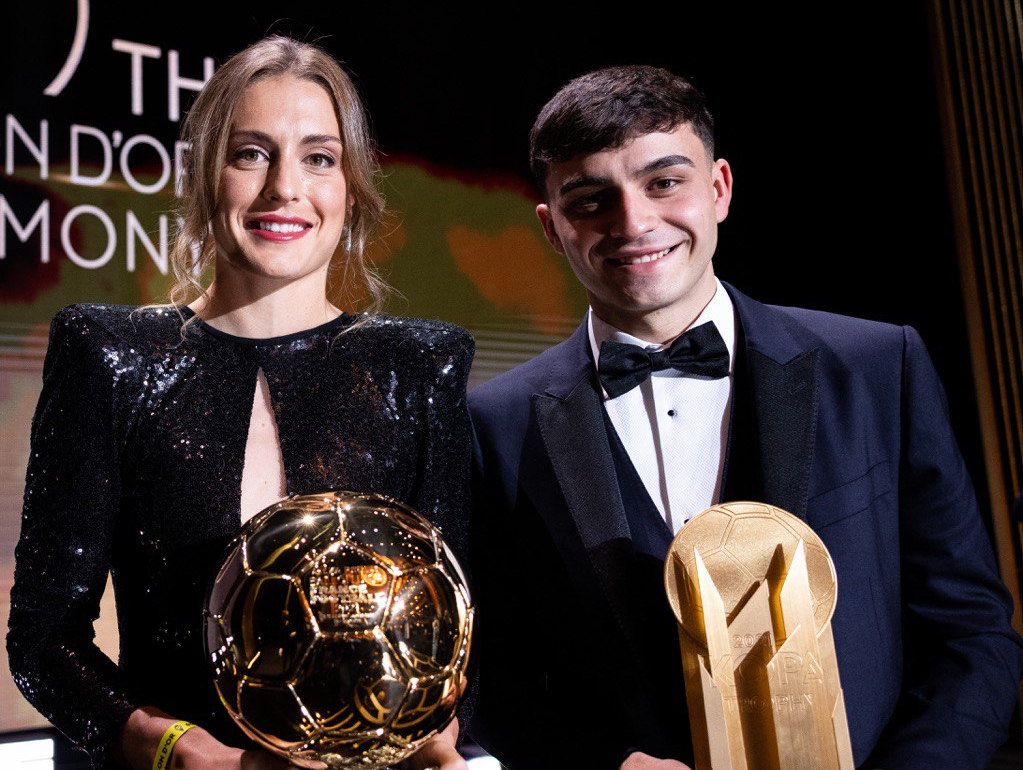 Women's FC Barcelona team captain Alexia Putellas became the first Catalan and first female Barça player to receive the Ballon d'Or award.
During the ceremony held in Paris, Lionel Messi was awarded his 7th Ballon d'Or. The former Barcelona player signed a contract with Paris Saint-Germain this summer.
The Kopa Trophy was given to Pedri, the 19-year-old Barça midfielder who had already been awarded the Golden Boy prize. He has now been recognized as the best player under the age of 21.
Alexia Putellas lead FC Barcelona women's team to their first triplet after scoring a second goal at UEFA's Champions League final in Gothenburg in 2021. She was recognized as MVP at Spain's Queen Cup. Last season she scored 26 goals in 44 games. She was named the best female European player of the 2020-2021 season.
Have a listen to our podcast published in June on the historic Barça Femení 2020-2021 season:
Putellas received the Ballon d'Or award next to her teammates as four of them were also shortlisted for the prestigious prize. Women's FC Barcelona captain thanked "all my partners, this is an individual award, but for me, it is a group prize. Hopefully, you can feel the same, as this is how I feel it," said Alexia Putellas in Paris.
Awarded with his 7th Ballon d'Or, Lionel Messi did not need to travel to pick up the trophy. Messi, who is currently playing for Paris Saint-Germain thanked his current teammates, but also his former team, FC Barcelona, and Argentina's national team.
He received the Ballon d'Or from his colleague Luis Suárez, former FCB player and part of Barça's historic trident with Neymar.
"G.O.A.T [Greatest of All Time]," as Barcelona names his former star, said during the event that he is "really happy to be there and looking forward to new challenges. I do not know how much I will keep playing, hopefully, it is a lot as I really enjoy playing football, I love this, and I wish I can keep doing it."
FCB's rising star, Pedro González López, Pedri, is only 19 years old but he has already been named Golden Boy by Italian's newspaper Tuttosport, and on Monday he received the Kopa Trophy. This season, Pedri has been injured for several months, however, he has received several awards.
Kopa Trophy is not selected by journalists as Ballon d'Or but voted by the 33 Ballon d'Or winners still alive. Messi, Ronaldinho, Bekenbauer, or Rivaldo, among others; name the under-21 best football player.
Pedri debuted with Barça's team on September 27, 2020. Since then, he has won a Copa del Rey, a silver Olympian medal, and was recognized as one of the 11th best players at Euro 2020.