First 12-tonne batch of medical supplies arrives in Barcelona from China
Mayor calls delivery "good news" at a difficult time for city and said equipment will be distributed immediately to employees providing essential services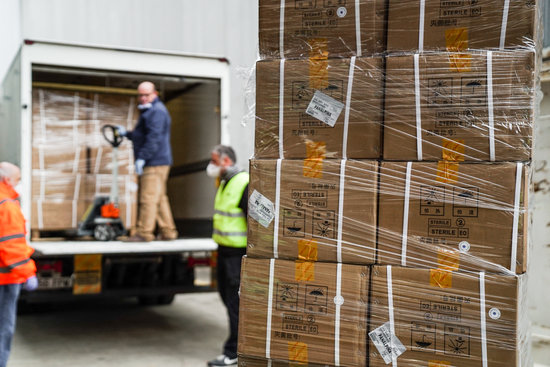 Barcelona city council has taken delivery of 12 tonnes of protective medical equipment destined for essential municipal service providers, the first large-scale purchase to arrive that has been made by the city since the start of the health crisis.
The batch of medical supplies includes 600,000 surgical face masks, 5,000 protective overalls, 12,000 pairs of goggles, and 9,600 protective caps. The supplies will be distributed to the likes of firefighters, police officers, market workers, and cleaners.
The medical supplies were transported from Shanghai in a plane chartered by the armed forces and organized by the Spanish Institute for Foreign Trade, with the state authorities to cover the half-a-million euros it cost to transport the equipment.
Barcelona mayor, Ada Colau, celebrated the fact that the supplies had "at last" arrived and said it was "good news" for the city at such a difficult time. She also said that the distribution of the equipment would begin immediately.
"As a city council our priority is to support the Catalan health department, but we also have essential services in the city and we are making every effort to protect employees," Colau said on Thursday.
Deputy mayor thanks city's Chinese community
Deputy mayor, Jaume Collboni, also welcomed the "first major purchase" and acknowledged Barcelona's Chinese community and consulate for providing contacts with medical supply manufacturers. He added that the supplies will last between four and six weeks.
The plane carrying the supplies arrived in Torrejón from Shanghai via Minsk on Wednesday and was flown later that night to Barcelona and stored in municipal warehouses. The 400,000-euro cost for the transport will be covered by the state, Collboni said.
At the same time, Chinese cities that have agreements with Barcelona or that are twinned with the city have confirmed that they will donate further basic medical supplies. Shangahi, Shenzhen, and Yiwu have said they will donate 150,000 face masks.
Spain takes delivery of a million rapid covid-19 tests
Meanwhile, Spain's health minister, Salvador Illa, said that a million rapid covid-19 tests had arrived, which have a 64% accuracy in patients who have only just begun showing symptoms and 80% accuracy in those infected for more than seven days.
Illa said the tests would be used to complement and not replace PCR (polymerase chain reaction) tests, which can find viral particles on a person and locate a particular coronavirus gene sequence to create multiple copies that can then be easily detected.
The rapid tests will be used "in rapid screenings in environments with a high prevalence of the disease," such as "hospitals and elderly care homes," said Illa, with the aim of reinforcing PCR testing, which must be done in a laboratory.
The tests will be distributed to Spain's autonomous territories, but first must be verified, said Illa. "We've gone as quickly as we can without sacrificing safety," said the minister, who added that there had been "serious logistics problems" due to world demand.