Ebre River Delta activists form human SOS message to highlight environmental issues
Several hundred people gathered to spell out letters that could be seen from the sky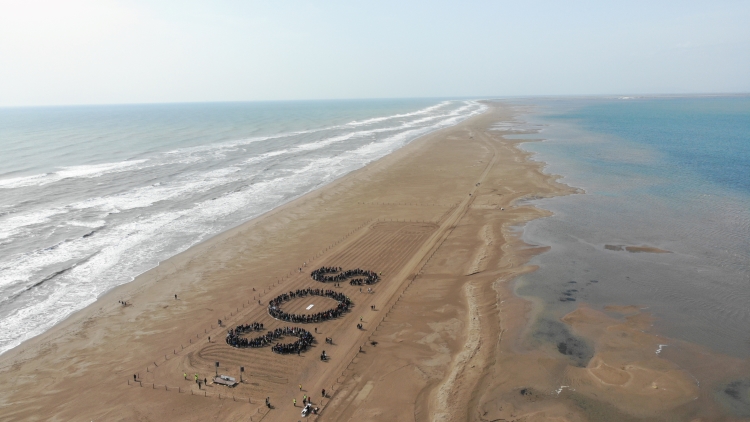 Several hundred people have demonstrated at a beach in the Ebre Delta, one of the Mediterranean coast's most extensive wetlands, to warn of the climate situation and deterioration of the habitat. Protesters gathered on Sunday to spell out a human SOS message visible from the sky.
The Fight for the Ebre Delta Movement (MOLDE) organized the protest at Trabucador beach, part of the Delta de l'Ebre natural park. This long, narrow strand surrounded by water on both sides connects the mainland with the Punta de la Banya peninsula.
The warning message, recorded using a drone, hopes to urge authorities to act fast as rising sea levels threaten the beach's existence.
In fact, organizers were not sure if they would be able to go ahead with the event as a recent storm, Storm Celia, left the Trabucador beach unusable.
The protest took place almost two years after Storm Gloria (January 2020) left the Ebre Delta flooded for days, causing damages worth millions of euros. The following year, Storm Filomena also damaged the area.
"Administrations are not doing any of the actions they promised" two years on from the storm, MOLDE spokesperson Jordi Bertomeu, said to the Catalan News Agency (ACN) during the protest. Activists are demanding "urgent measures as we cannot wait any longer," he added.
Ebre River Delta, a climate crisis
Designated a UNESCO Biosphere Reserve in 2013, the area known for its marshes and migratory birds is at risk of disappearing due to climate change, which has led to increasingly frequent extreme weather events and rising sea levels.
According to a NASA Earth Observatory article by Sara Pratt, "the shape and form of the delta is no longer controlled by the river, but by sea waves" which have forced the shoreline to retreat "by several hundred meters."
Satellite images taken in 1984 and 2021 by Lauren Dauphin using Landsat data from the U.S. Geological Survey document severe erosion in the area that is home to some 62,000 inhabitants.
Natural area generating electricity
Rising sea levels and temperatures are already upsetting the area's rich ecosystem comprised of 22,000 hectares of rice fields as well as hundreds of plant and animal species, including over 360 kinds of birds.
But it is not only climate change that is putting the area's survival at risk; there is also a severe lack of sediment supply that is needed to prevent erosion near the river mouth. Large dams and hydropower plants, such as Endesa's Mequinenza or Riba-roja, were built along the river mainly in the 1960s to provide the population with water and cheaper electricity.
Listen to our podcast on the climate crisis affecting Catalonia and especially the Ebre River Delta.