Will the Ebre River Delta be around much longer?
Climate change and hydroelectric plants pose an existential threat to plants, animals, and businesses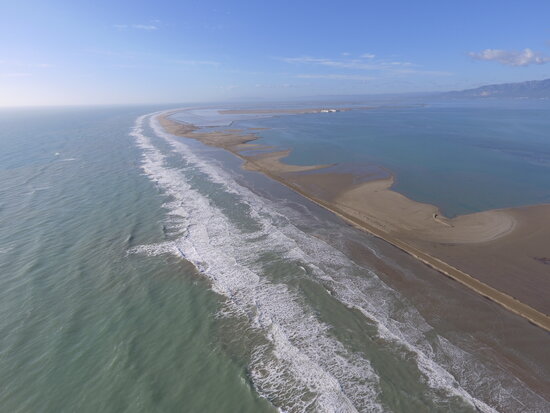 The Ebre River Delta is one of Catalonia's most spectacular natural landmarks, home to unique flora and fauna as well as an important site of economic activity in the form of agriculture, salt extraction, fishing, and, in non-Covid times, tourism. But locals, businesses, and environmental scientists fear for its future.
Indeed, researchers believe the delta will be one of Catalonia's regions most affected by climate change in the 21st century, with bouts of extreme weather occurring more frequently—and as last year's Storm Gloria and this year's Storm Filomena would suggest, these dire predictions are rapidly coming to fruition.
Coupled with rising sea levels and temperatures, this is already upsetting the area's rich ecosystem comprised of 22,000 hectares of rice fields as well as hundreds of plant and animal species, including over 360 kinds of birds.
But it is not only climate change that is putting the area's survival at risk; there is also a severe lack of sediment supply that is needed to prevent erosion near the river mouth. Large dams and hydropower plants, such as Endesa's Mequinenza or Riba-roja, were built along the river mainly in the 1960s to provide the population with water and cheaper electricity.
These, however, block the natural flow of sediment, with scientists now reporting a near-total drop in load, and environmental groups like Ecologistes en Acció or Campanya pels Sediments calling for it to be transferred to the delta to stave off further land destruction altering the fragile habitat's salinity levels.
A disappearing sandbar
One of the delta's most prominent features is a sandbar known as the Barra del Trabucador, a narrow strip of land connecting the mainland to the Punta de la Banya peninsula and protecting the Alfacs Bay where the small town of Sant Carles de la Ràpita is located.
This delicate isthmus was flooded in January 2020 after Storm Gloria battered Catalonia and much of the Iberian peninsula and the Balearic Islands for days, putting a dent in salt production on the Banya. Only months after the Spanish government finished repairing the sandbar required for the safe passage of trucks and tractors transporting salt, a storm slightly smaller than Gloria struck, Storm Filomena.
Infosa, the firm that operates the Salines de la Trinitat salt pans, has already gotten to work restoring the Trabucador, with truckloads of sand being brought into the area. But company representatives lament having to carry out what they describe as what should be the work of the government.
"What is causing this? Climate change," says Cristian Jensen, an environmental assessor and bird expert who works for Infosa. "Is the company responsible for climate change? For sediment flow?"
Other company employees agree the sandbar should be strengthened. Andreu, a 33-year-old tractor driver, highlighted just how drastic the changes have been in his own lifetime. "As a child, I'd burn my feet on the sand and cry when walking from one side to the other," he said, recalling just how wide the isthmus used to be. "Without the sandbar, the sea will eat up the bay, the rice fields, Sant Carles de la Ràpita, all the animals," Andreu worried.
Although the Spanish government spent 2.2 million euros on urgent repair work after Storm Gloria, no further work is expected before 2022 when a Spain-wide plan is set to be completed. Meanwhile, Catalan authorities have pledged 6 million euros but are yet to take action.
"The Netherlands, they've been fighting for two centuries, with dykes, against the rise of the sea," Jensen told the Catalan News Agency. "Why can we not do it here?"
While not denying the damage of climate change and insufficient sediment flow, some people, including Jensen himself less than a year ago, question whether expensive engineering solutions are a long-term fix, especially if nothing is done about the Ebre reservoirs and other structural factors contributing to the global emergency.
Infosa's environmental assessor attributes his change of heart to having learned more about the dangers of doing nothing and the importance of what he describes as "soft interventions", but others, such as local rice farmer Jordi Margalef, are not so sure.
"Putting more sand out into the sea… it won't last," Margalef contends. "How long will it hold, a year or two?"
Spanish and Catalan government inaction
What exactly needs to be done to save the delta's plants, animals, and industries is hotly debated even by those who seek the common aim of preservation. Yet, a sense of both Catalan and Spanish government inaction in what is, legally, a protected nature reserve, is widespread in the area.
Paco, who like Andreu also drives tractors for Infosa, feels they have been "a bit abandoned," as he describes it. "The people in Madrid, they don't care about us that much."
This frustration is echoed by Jensen, who says his company made an effort to quickly transport salt to parts of Spain affected by the snow and icy roads Filomena left in its wake but is not assisted in return. "Governments are responsible for [protecting nature] and they cannot turn their backs on it, otherwise, they will be brought to court," he said, suggesting legal action.
Sant Carles de la Ràpita's mayor agrees that, unless current environmental trends are reversed, the Ebre River Delta's situation will remain critical. "The relevant authorities, in this case, Spain's Ecological Transition Ministry and Catalonia's Territory Department, have not acted firmly and decidedly when that is what they should do," explained Josep Caparrós. "We're as bad as we've ever been."