Unionist parties vie for support in upcoming snap election
Catalonia features heavily among issues discussed on campaign trail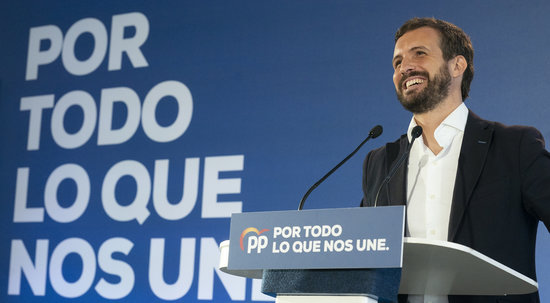 Unionist parties have begun vying for support ahead of Spain's November 10 general election – the fourth of its kind in the past four years – with Catalonia featuring heavily among issues discussed on the campaign trail that officially kicked off on Thursday at midnight.
Although acting president Pedro Sánchez has not yet made direct references to the Catalan independence conflict, his party's spokesperson, Adriana Lastra, affirmed during Friday's seven-party debate that "the Socialists are the party that defends the Constitution in its entirety," which "recognizes diversity and plurality."
According to the latest polls, the Socialists are likely to win the greatest number of congressional seats in the upcoming vote, improving their April 28 results, but are likely to still fall short of obtaining an absolute majority, meaning they will have to successfully negotiate a coalition agreement with another party if they wish to stay in power.
While after the last election talks fell through with left-wing Podemos, this time around it is abundantly clear that the Socialists will not be attempting to forge a coalition with the right-wing People's Party as an alternative to strained relations between the Spanish parties further on the left.
On Thursday night, Spain's acting president Pedro Sánchez declared, in response to questioning from head of Podemos Pablo Iglesias, that "there will not be a coalition with the People's Party," thereby quelling any possible doubts in that regard.
People's Party not ready to facilitate Socialist government
On the other hand, People's Party head Pablo Casado affirmed that his party would not "facilitate" a Socialist government either by abstaining when it came to a parliamentary vote on the matter: "We are the opposite of Sánchez, we cannot back him."
He also accused Sánchez of strategically calling for a snap election with the knowledge that they would be held after the Supreme Court announced its sentence for the pro-independence leaders: "He thought it was in his interest for there to be violence and for him to show up – when polls gave him 150 seats – like the guy with the baton wrapped in a flag."
The conservative politician claimed that his party had a technical tie with the Socialists, meaning that they too could seek coalitions and agreements allowing the People's Party to form a government.
Casado, furthermore, went on to detail how, if his party were to win the upcoming election, he would send Catalan president Quim Torra a warning, which, if not heeded, would entail the subsequent application of Article 155 of the Spanish Constitution dissolving self-rule in Catalonia.
Ciudadanos calls out Sánchez and independence movement
As for Ciudadanos, known as Ciutadans in Catalonia, head of the congressional electoral list for Barcelona Inés Arrimadas accused acting president Sánchez of "giving Torra justice" so that "the next coup d'état is successful," referring to the failed 2017 independence bid in Catalonia.
Arrimadas, who also called Sánchez a "public hazard," was not the only one in her party to criticize the state of affairs and, more specifically, the Catalan independence movement.
Lorena Roldán, the party's new head in Catalonia following Arrimadas' departure to Madrid, sent "Mr. Torra and those radical separatist commandos he likes so much" a message during an event in Tarragona on Saturday: "Mr. Torra, you will not kick us out of Catalonia because it is our land and our home, and no stone, barricade, fire or threat will quiet us. We will continue defending freedom and coexistence as always – let that be clear to the totalitarians."