Summit in prison to find way out of presidential deadlock one month before deadline
Pro-independence ERC and Junts' main officials including some jailed leaders will engage in talks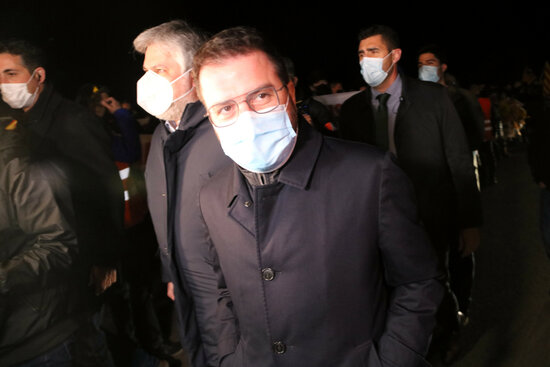 Time continues to tick in the Catalan political arena. A continued lack of consensus to elect a new Catalan president by May 26 would lead to a snap election in mid-July.
Over two months on from the February 14 vote and with an interim government in place for seven months – ever since the former president Quim Torra was disqualified –, the pro-independence parties continue to engage in talks, but with no major outcomes yet.
Esquerra won the most seats of the pro-independence bloc, and therefore the negotiations revolve around the idea of accepting their frontrunner, Pere Aragonès, as president – and following the lack of progress, Aragonès himself will be involved in the talks on Tuesday.
Summit in jail
Indeed, on Tuesday a summit will be held between the two parties, for the first time in Lledoners prison, where seven jailed pro-independence leaders are serving their decade-long sentences for their roles in the 2017 referendum.
Esquerra's leader, Oriol Junqueras, is imprisoned in the jail, but it is not clear yet whether he will be able to take part – Junts per Catalunya's secretary general, Jordi Sànchez, also behind bars in Lledoners, is confirmed for the meeting.
Both parties have said that the summit is only one of several meetings being held – yet, it will be the first one with Aragonès and the first one to take place in Lledoners.
Esquerra's spokesperson Sergi Sabrià said on Monday that it is "essential" that the structure of their potential shared government is covered for the first time on Tuesday, including how the ministries would be distributed.
Junts' spokesperson, Elsa Artadi, also speaking on Monday, said that they had asked their partners on April 11 what structure of government they were considering. "It seems that 11 days later, we will find out about it," she said.
The two parties are at odds with each other since April 19, when Esquerra urged Junts, their ally until now, to back their candidate, Pere Aragonès, by May 1.
Minority government
Seven days later, Sabrià suggested that they could allow the talks to run into May, but at the same time said that if the deal is not closed by Saturday, they would begin to look into alternatives to a shared government with Junts – the presidential bidder Aragonès implied in an interview with 'Ara' newspaper at the weekend that an Esquerra-only government, backed by Junts from opposition could be on the cards after May 1.
One of Esquerra's senior MPs, Ernest Maragall, said on April 6 that the party "should be ready" for a cabinet only supported by their 33 lawmakers out of the 135 MPs in the chamber.
Far-left CUP, who are also essential even if Esquerra and Junts vote for Aragonès, has already confirmed they will stay in opposition at least until 2023.
The pro-independence group could consider entering government at the half-way point of the term, when Aragonès would face a vote of confidence, according to the agreement negotiated between CUP and Esquerra.
Opposition parties furious
Unionist opposition parties reacted with fury to the plans to hold government formation talks in Lledoners prison.
Far-right Vox described the meeting as "shameful." Ignacio Garriga, their leader in the Catalan parliament, said that "the fact that the government, which has to respond to Catalonia's health, social and economic emergency, is being negotiated in a prison is pitiful." Garriga also referred to the acting government as a "mafia."
Nacho Martín Blanco of Ciudadanos said he considered the meeting to be "incomprehensible," saying it "perpetuates the loop and is a return to the past." It is "surreal" that the makeup of the next Catalan government will arise out of a meeting held in a jail, Martín Blanco added.
Similarly, Lorena Roldán, formerly of Ciudadanos and now representing the conservative People's Party, said the meeting was "another episode of nationalism's soap opera." Roldán called on ERC and Junts to move forward in their negotiations but criticized them for "deciding in a cell."