Torra condemns his ousting as 'Spain's latest coup' in parliament appearance
Ciudadanos lash out at pro-independence parties for calling a special plenary session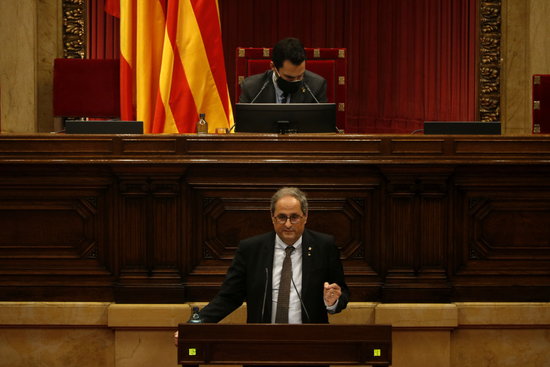 Quim Torra, ousted as Catalan president on Monday, has urged the next parliament elected to be "faithful to the mandate of the people: a Spanish monarchy or a Catalan republic."
Addressing the chamber at a specially convened sitting to debate his removal from office, Torra compared Spain to an "authoritarian regime" for disqualifying him for displaying a banner and said it was "not possible to imagine" that this could happen in any other European state.
Backed by long applause from parts of the chamber, Torra told MPs that despite what he called "Spain's latest coup," he would not give up and will be by their side if they lead "the democratic rupture" and "follow the people."
Torra also said his barring from office meant that millions of votes had been "gagged and declared useless," and that the courts had "trampled on the sovereignty of the people of Catalonia," and went on to indicate he would attempt to take the matter to the European courts.
Pere Aragonès, who took over Torra's role as head of the government after he was banned from public office, stressed that "Catalonia has no president until this parliament elects one."
Opposition parties react
Opposition head, Carlos Carrizosa of the unionist Cuidadanos party, lashed out at the pro-independence parties for calling a plenary session to discuss Torra's removal from office while postponing other issues.
"In July we proposed an extraordinary plenary session on the health situation and it was scheduled for October. However, in 24 hours they organize a plenary session for Torra," Carrizosa complained, but added that they would have him back in Parliament again in the future to explain "the black hole in Catalan finances that paid for the independence bid."
Jéssica Albiach of the left-wing Catalunya en Comú-Podem, said her group believed that Torra's disqualification was "disproportionate" and "weakens democratic institutions", but criticized the ousted president for not calling elections, saying "he has not been up to the task," and warning that the "125 days until the February elections will be very long."
Carles Riera of the far-left CUP party said that Torra was president because parliament decided that he was. He accused the Spanish judicial system of going after those in favor of independence. "Bankia thieves and monarchy mafia remain free, while pro-independence figures are behind bars, in exile or ousted."
The Catalan People's Party accused Torra of being childish for not removing a banner in support of the jailed independence leaders in time, which eventually led to his disqualification.
"Disobeying the Electoral Board over a banner shows a pre-adolescent attitude", leader Alejandro Fernández told the chamber.
The session was boycotted by the Catalan Socialists whose leader, Miquel Iceta, accused the pro-independence government of hijacking parliament: "When institutions become the scene of partisan strategies we should not go there."