State of alarm extended until June 7
Prolongation passes after initial uncertainty when pro-independence parties said they would vote No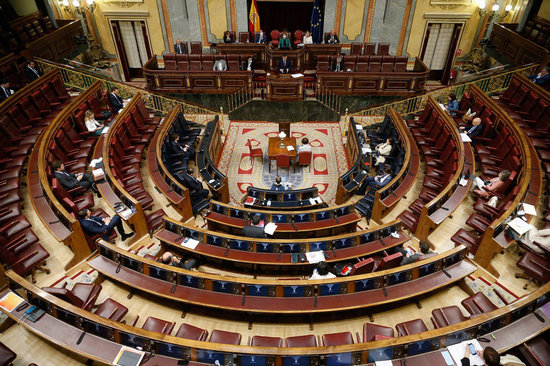 The Spanish Congress has passed the fifth extension of the state of alarm, aimed at halting the spread of the coronavirus, which will now last until June 7.
After some initial uncertainty over whether the latest extension would pass after Catalan pro-independence parties announced they would vote No, Pedro Sánchez got sufficient support from the Basque nationalist EAJ-PNV party and unionist Ciudadanos.
At first, the Spanish government hoped to extend the state of alarm one last time for a full month, but instead it has only been extended for 15 further days.
Failed talks with pro-independence parties
Separate talks between the Socialists with Esquerra and Junts per Catalunya failed, as both groups made clear that their conditions had not been granted.
Esquerra's leader in Madrid, Gabriel Rufián, said that they had asked for key powers to manage the health crisis to be returned to regional governments, such as the Catalan one, but that had been rejected.
Indeed, Spain's health minister, Salvador Illa, will be the only authority during the fifth extension of the state of alarm, apart from President Pedro Sánchez, if it succeeds.
In his speech in Congress, Rufián criticized the Spanish government for siding with Ciudadanos instead of his left-wing ERC party, and said Pedro Sánchez has "possibly definitively" refused to negotiate with Esquerra Republicana.
Sánchez also told congress today that over the coming weeks as Spain continues its progression out of lockdown, the regions and their respective primary health care services will gain more authority.
For their part, Ciudadanos made a call for voting "responsibly." Edmundo Bal said in congress, "while we are winning the battle, now that people are keeping their side of the deal, we can't take a step backwards."
As for Junts per Catalunya, they had announced they were in talks with the Socialists to strike a deal that would have seen them abstaining in the vote in exchange for the Catalan president, Quim Torra, to be recognized as a competent authority during the state of alarm, but this did not come to fruition.
The third pro-independence party, CUP, also rejected the extension, like they have done in the previous four votes.
MP for the CUP party, Mireia Vehí, said that the state of alarm "cannot trample over people's rights," referring to people's rights to protest and the centralization of powers that the state of alarm brings with it.