Talks underway to recognize Catalan president as competent authority during state of alarm
Pro-independence JxCat would abstain in upcoming vote on extension in exchange for more powers for Quim Torra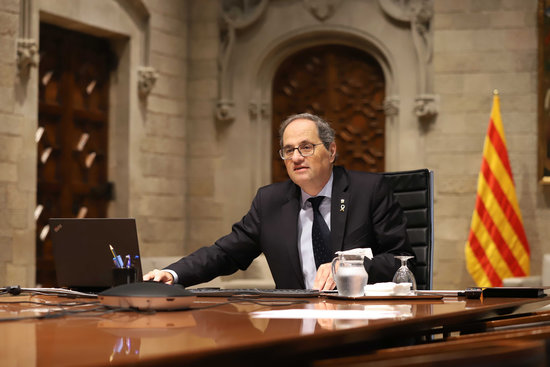 Pro-independence Junts per Catalunya (JxCat) party, which is at the head of the Catalan executive, has announced it has begun talks with the Spanish government in order to have Catalan president Quim Torra recognized as the competent authority during the state of alarm.
If Madrid accepts this proposal, Torra's party is committed to abstaining during the upcoming vote on extending this exceptional state for a fifth time.
Indeed, on Wednesday, Spanish president Pedro Sánchez will ask lawmakers in Congress to back a fifth extension of the state of alarm, which began on March 14.
Sánchez already had a difficult time getting the fourth prolongation approved and is expected to agree to concessions for the fifth extension after the conservative People's Party stated it will vote No.
The Spanish president said last week that regional governments will "regain their full decision-making capacity" in the new extension, which will last a month and will be the last of its kind, according to Sánchez.
ERC: Ministers as well as Torra should get devolved powers
Yet, JxCat's coalition partner in the Catalan government, ERC, said on Monday they are maintaining their 'No' in the upcoming vote on the state of alarm.
ERC is in talks with the Socialist party, and insists that if all powers to fight the pandemic are not devolved to Catalonia they will reject the prolongation.
The pro-independence left-wing party and JxCat are not in joint talks with the Socialists – and in fact, ERC's spokesperson, Marta Vilalta, said on Monday that Torra has to lead the decision-making, but each Catalan minister also has to be able to take the decisions affecting their departments, thus avoiding supporting their coalition partners' plan.