Spanish president to ask for 'last' month-long extension to state of alarm
Pedro Sánchez says regional governments will "regain their full decision-making capacity"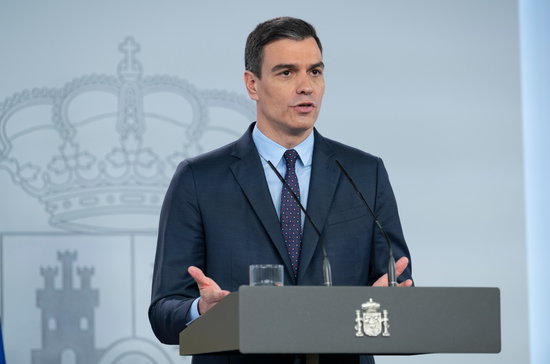 The Spanish president, Pedro Sánchez, will request a further extension of the state of alarm to last "approximately one month," making it twice as long as previous extensions.
At a press conference on Saturday afternoon, Sánchez said that he expects this extension to be "the last" and to have "different characteristics to previous ones," but insisted that, as always, everything would depend on how things develop regarding the virus.
The Spanish president said there would be "co-governance," with regional governments "regaining their full decision-making capacity." The Catalan executive has, for several weeks, been calling for such powers to be returned.
Sánchez said he wants to reach consensus in Congress about the need for this state of alarm extension, something he believes already exists among wider society.
Last minute deals
A state of alarm was declared across Spain on March 14 and has since been extended four times, but with decreasing support in Congress.
The Spanish government had to rely on last minute deals with the unionist Ciudadanos party and the Basque National Party to secure the lastest extension, which lasts until May 23.
In light of that, the Spanish government has been in touch with several parties looking to build support for another prolongation.
The latest vote was the first occasion where all three Catalan pro-independence parties in Congress were unanimous in voting against extending the state of alarm.
During a Catalan government press conference on Saturday spokesperson Meritxell Budó warned that "if this state of alarm means being one more month with powers borrowed, we can not support it."