Puigdemont calls on EU parliament not to oppose his restoration of immunity
Exiled former president welcomes being first MEP whose removal of privileges have been suspended by European judiciary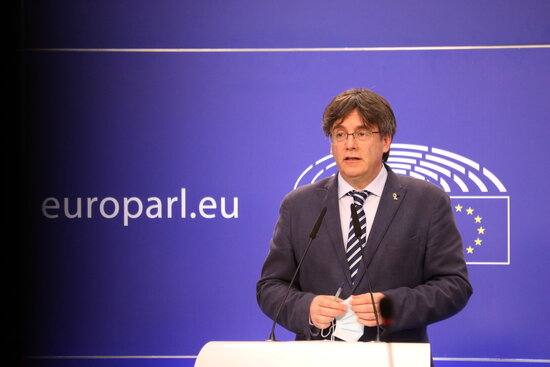 The former Catalan president Carles Puigdemont, now an MEP in exile in Belgium, has welcomed the decision of the European General Court to provisionally suspend the removal of his immunity in the European Parliament.
In a press conference on Thursday, he said that "it is the first time that the European judiciary restores the immunity of MEPs that the parliament had decided to lift." So far, the magistrates' decision, also affecting exiled former ministers Toni Comín and Clara Ponsatí, is temporary while they study their appeals.
He also called on the European Parliament to not oppose his restoration of immunity. The chamber still has to have their say in the procedure before the court.
Former Catalan president Puigdemont and his two colleagues, who were elected in the European election as members of the pro-independence Junts per Catalunya party, were stripped of their parliamentary rights last March after a majority of fellow MEPs in the chamber voted in favor of doing so.
The three politicians, who left Catalonia for Belgium in the fall of 2017 fearing imprisonment for their role in the failed bid to separate from Spain, challenged the European Parliament decision in the European Court of Justice in Luxembourg.
They denounced a "breach of confidentiality," since the content of the report prior to the preliminary chamber committee vote on the issue was revealed before MEPs voted on it – the chamber insists that Members of the European Parliament cannot reveal the content of reports before a vote in a committee.
The report was drafted by ultra-conservative MEP Angel Dzhambazki and greenlighted by the committee on Legal Affairs, led by a member of the anti-independence Ciudadanos party, Adrián Vázquez, on February 23.