EU parliament fears backlash from court after Puigdemont vows legal battle to keep immunity
MEPs will vote to strip former president and two more exiled politicians of their privileges, but case could fail due to "irregularities" in procedure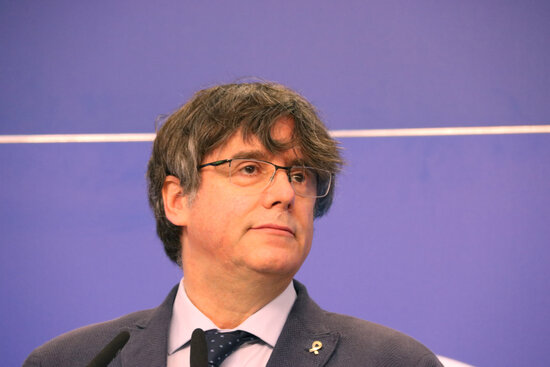 The former Catalan president Carles Puigdemont is set for a legal battle to keep his immunity as a member of the European Parliament, which prevents Spain from prosecuting him for leading an independence push in the fall of 2017.
Exiled in Belgium to avoid entering prison like many of his colleagues, Puigdemont won his MEP seat in the last European election, earning him immunity from Spain's repeated attempts to put him on trial.
Next week, the EU chamber is scheduled to vote on whether Puigdemont and two other pro-independence politicians, Toni Comín and Clara Ponsatí, should be stripped of their immunity, with a majority of MEPs expected to back the proposal - parliamentary sources told ACN that the vote is set to take place on March 8.
But the European Parliament fears the case is likely to face difficulties.
In confidence, EU officials have told the Catalan News Agency (ACN) about their "worries" that "irregularities" in the process and a"lack of rigor" could lead to a "shameful" judicial outcome in the case that Puigdemont appeals to the European Court of Justice, based in Luxembourg.
Last week, the EU Parliament Committee on Legal Affairs, led by member of anti-independence Cs party Adrián Vázquez, recommended putting an end to Puigdemont's immunity, following a report drafted by the ultra-conservative MEP Angel Dzhambazki.
'Breach of confidentiality'
EU chamber sources cast doubts on the "impartiality" of the two anti-independence politicians, and have said that the president of the parliament, David Sassoli, contacted Vázquez to express his concerns on the issue, urging him to proceed "according to the law" - something the Cs party deny.
In fact, the content of the report was leaked before the committee's vote, which Junts per Catalunya called a "breach of confidentiality," since the chamber insists that no committee members can reveal the content of any paper before the vote.
Moreover, Ponsatí denounced the publication of a report, greenlighted by the Committee, which mistakenly stated that Spain accuses her of misusing public funds, when she is only being prosecuted for the crime of sedition.
Luxembourg court
The Luxembourg court has previously ruled in favor of pro-independence leaders.
In 2019, it confirmed that Oriol Junqueras, Puigdemont's former vice president, had effectively been elected as an MEP and thus should enjoy political immunity, despite Spain having kept him in pre-trial prison and not allowing him to take up his seat.
While Spain's Supreme Court ultimately rejected freeing Junqueras on the basis that he had already been convicted, the EU court ruling allowed Puigdemont and other pro-independence politicians to assume their posts as MEPs.