Pro-Palestine groups urge government not to consider Israel as key investment region
Entities speaking from parliament call for end to business deals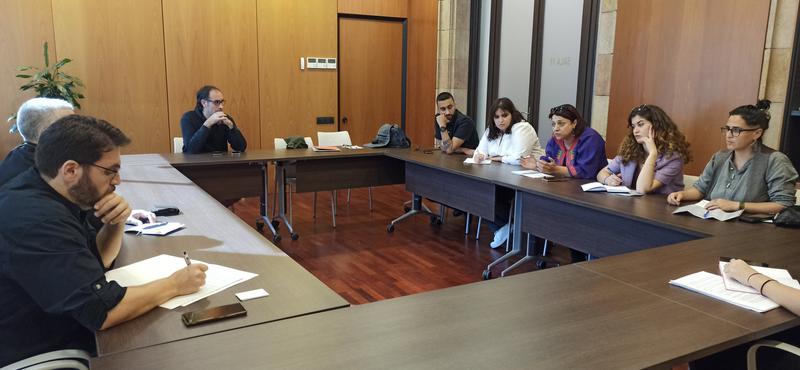 Pro-Palestine groups have urged the Catalan government not to consider the state of Israel as a key investment region and for business agreements to end, as the Catalonia Trade & Investment agency still promotes deals there.
Entities met with several members of the Catalan parliament on Friday, coinciding with the 75th anniversary of the Nakba, when there was a permanent displacement for the majority of Palestinians in 1948 after the war against Israel.
MPs from the Socialists, anti-austerity En Comú Podem, and far-left CUP met with Palestinian activists, including Alys Samson, spokesperson of the Stop Compliance with Israel coalition, who welcomed that the Catalan chamber considered Israeli treatment of Palestinians 'equivalent to apartheid' back in June 2022.
The decision outraged right-wing parties as it was supported by all left-wing political groups: Esquerra Republicana (ERC), CUP, En Comú Podem (ECP), and the Socialists (PSC).
Pro-independence Junts per Catalunya (JxCat) voted against it, while Ciudadanos and far-right VOX abstained.
Then-foreign affairs minister, Victòria Alsina of Junts, was in Senegal when the text was approved, and she said she then called the Ambassador of Israel. Months later, Alsina visited the country to "strengthen the relationships that have been very good so far," the minister told Israel's I24 News TV channel.
For her, the parliament's motion "is not at all the position of the Catalan government, this is not at all the position of the Catalan population."
During the press conference, Samson also welcomed the "great victory" after Barcelona city council decided to suspend ties temporarily with Israel and to freeze the Catalan capital's twin city agreement with Tel Aviv.
However, activists consider this insufficient.
"What the Catalan chamber has done is very important but this is not enough, we have to put an end to any compliance. Including technological deals, but also business agreements that position Israel as a role model," entities said.