Catalans disagree with parliamentary motion on Israeli 'apartheid', says foreign minister
Victòria Alsina's comments prompt backlash from parties who voted in favor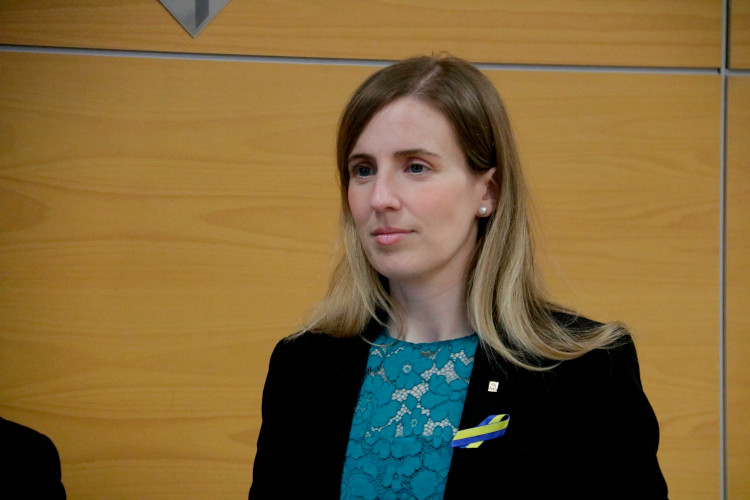 The Catalan foreign minister, Victòria Alsina, rejected the parliamentary motion stating that the way Israel treats Palestinians is "against international law and is equivalent to apartheid."
"This is not at all the position of the Catalan government, this is not at all the position of the Catalan population," she said in an interview with Israel's I24 News TV channel.
The Catalan chamber voted in June on a condemnation put forward by left-wing political parties Esquerra Republicana, En Comú Podem, and CUP following Amnesty International and Human Rights Watch's reports denouncing the situation faced by Palestinians.
Alsina explained that after the text was approved, she was in Senegal and "called the Ambassador of Israel." Now, with her trip to the country, she wants to "strengthen the relationships that have been very good so far," the minister told I24 News.
"These connections make us stronger, and Catalonia is interested to use Israel as a key partner for other policies that we want to do in the region," she added. The leader is currently traveling across the Middle Eastern country meeting with local politicians and businesses.
Back in June, Alsina already said she found the resolution "unhelpful."
"The resolution does not help to solve the conflict between Israelis and Palestinians at all. It only serves to harm the good relationship that Catalonia has with Israel with an impact that is difficult to assess," Alsina explained after the parliament greenlighted the resolution.
"Catalonia needs to be seen as a country that is a trustworthy partner," she added.
Political backlash against Alsina's comments
"What contempt of the parliament from the minister," Alícia Romero, the Socialist spokesperson, said on Friday morning during a press conference.
The minister's answer in the interview with I24 News left the Socialist "perplexed" as Alsina "claims to say she does not care about what the chamber votes, and that she already knows what people want. So lucky to know what 7.5 million Catalans want," Romero joked.
"If Alsina did not like the resolution, it is because she did not have the majority of votes. This is the democracy, and there are some who talk a lot about it but do not like it," she concluded.
Similarly, anti-austerity En Comú Podem MP Susanna Segovia called on Catalan president Pere Aragonès, of senior coalition partner Esquerra Republicana, to confirm if the comments from junior partner Junts' Alsina were shared by the entire cabinet or not.
Aquesta és també la qüestió: @_VictoriaAlsina parla a nom del @govern, diu.
És així, President @perearagones ?
Si no és així, cal desautoritzar i refermar la resolució del #Parlament,aprovada amb els vots d'@Esquerra_ERC https://t.co/TZAMgqUsjW

— Susanna (@susannasegovia) September 23, 2022
"How shameful!" far-left CUP tweeted.
Quina vergonya, @_VictoriaAlsina!

Situar els posicionaments individuals per sobre dels posicionaments del Parlament i la ciutadania. Anar a Israel a pidolar acords.

Els crims de l'estat d'Israel contra el poble palestí són apartheid. https://t.co/1h14Y96xgG

— CUP Països Catalans (@cupnacional) September 23, 2022
The Catalan president defended Alsina's trip to Israel as the government should be able to open relations with all countries "regardless" of their "internal affairs," Pere Aragonès said during a joint press conference with the Corsican executive council president, Gilles Simeoni.