Catalan parliament considers Israeli treatment of Palestinians 'equivalent to apartheid'
Chamber believes system in place in the Occupied Palestinian Territory is against international law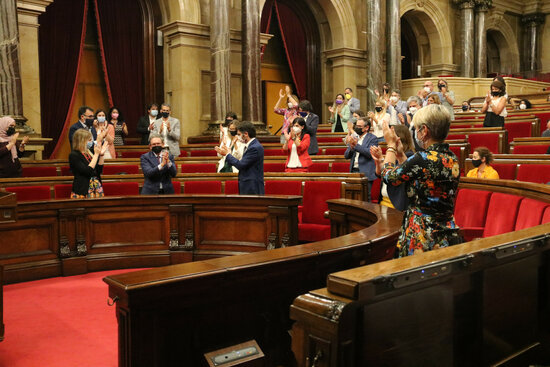 The Catalan parliament publicly condemned Israeli acts in the Palestinian Occupied Territory as "against international law and are equivalent to apartheid." While pro-Palestine civil society groups welcomed the news, a Catalan pro-Israel association considered it destructive. The decision makes Catalonia the first European parliament to do so.
The proposal considered by the Foreign Affairs Committee on Thursday was greenlighted with support from all left-wing political parties: Esquerra Republicana (ERC), CUP, En Comú Podem (ECP), and the Socialists (PSC). Pro-independence Junts per Catalunya (JxCat) voted against it, while Ciudadanos and far-right VOX abstained.
The text also condemns the "human rights violations" against the Palestinian population. Despite being against the entire motion, JxCat voted in favor of this text.
ERC, far-left CUP, and ECP put the resolution forward following Amnesty International and Human Rights Watch's reports denouncing the situation faced by Palestinians.
According to the two international organizations, Israel has "several ways of discrimination and oppression evoking to a continued suppression of the Palestinian human live development."
After the vote, the Catalan-Israeli Friendship Association (ACAI), a member of the Spanish Federation of Jewish Communities, rejected and condemned the resolution.
"Catalonia has long shown that it is a society in favor of peace, and that also it opens the door to dialogue and for communities to solve their issues democratically," a statement reads.
"This is why we reject the resolution as it is destructive, biased, and does not represent Catalonia's values."
On the other hand, the International Institute for Nonviolent Action (NOVACT) welcomed the news and thanked the pro-Palestine Catalan civil society group Prou Complicitat as they backed the initiative.
Catalan foreign minister Victòria Alsina, meanwhile, said she found the resolution "unhelpful."
"The resolution does not help to solve the conflict between Israelis and Palestinians at all. It only serves to harm the good relationship that Catalonia has with Israel with an impact that is difficult to assess," Alsina said.
"Catalonia needs to be seen as a country that is a trustworthy partner," she added.
Ahead of the vote, ERC MP Meritxell Serret said that Israel's position "favors the growth of radicalism."
"What is happening in Israel differs from being a democratic response to a political conflict. It differs from being a response that respects human rights. In fact, it is the complete opposite," Serret said.
On a similar note, far-left CUP leader Carles Riera said that "Israel is internationally known for the practice of apartheid."
"Israel's violation of rights is evidence of an apartheid regime that excludes people because of their origin," Susanna Segovia, from the ECP party, told the Catalan chamber committee.