People's Party target Spanish government after Madrid election success
Acting Catalan president contrasts Madrid's "populism with far-right support" with Catalonia's "republican, pro-independence and left-wing majority"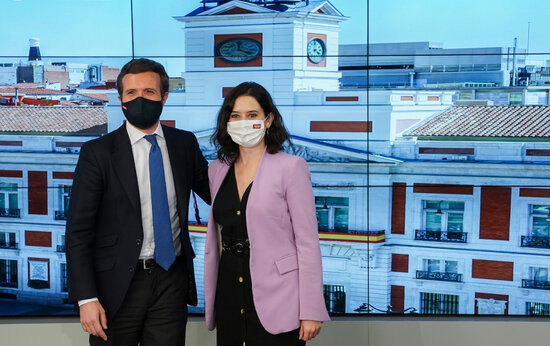 Following their success in Tuesday's regional election in Madrid, the conservative People's Party have turned their sights to the Spanish government, saying the result will have "country-wide repercussions."
In her victory speech, Madrid president Isabel Díaz Ayuso criticized Spanish president Pedro Sánchez for doing deals with "separatists," referring to pro-independence parties in Catalonia.
People's Party leader Pablo Casado claimed the government parties suffered "a historic slump" and said that "yesterday was a turning point."
The People's Party gained 35 seats to reach 65, just shy of an absolute majority of 69 but will need far-right Vox's 13 seats to govern.
Spain's main governing party, the Socialists, lost 13 MPs to end up with 24 seats, while their coalition partners Podemos gained 3 seats to reach 10. Both finished with less votes that their left-wing rivals Más Madrid, who also won 24 seats.
Catalonia-Spain talks
The People's Party's success, or rather the Socialists' defeat, could have an effect on the talks between the Catalan and Spanish governments, which barely got off the ground before Covid struck and could resume once Catalonia has a new government in place.
Opinion is divided among Catalonia's pro-independence parties. Sources from Esquerra told the Catalan News Agency (ACN) that the Socialists' weakened position strengthens the Catalan parties' hand in negotiations. They are confident that the talks won't be hindered. Junts per Catalunya and CUP, however, both warn that the Socialists' defeat raises more questions about the usefulness of the talks process.
Catalonia and Madrid, "night and day"
The results in Madrid bear little in common with those seen just a few months ago in February's Catalan election, something the acting president of Catalonia Pere Aragonès was keen to point out on Tuesday.
"Night and day" was how he characterized the difference between Madrid's "populism, with support from the far right" and Catalonia's "republican, pro-independence and left-wing majority."
The Catalan election was undoubtedly a major success for pro-independence parties who gained over 50% of the popular vote for the first time, as well as a majority of seats, but even if we look only at the parties that stood in both elections the differences remain stark.
The Socialists managed to top the poll in Catalonia, practically doubling their representation, while the People's Party won a meagre three seats.
Socialist party strategists will be mulling over why such a good result in Catalonia was followed so quickly by a disastrous showing in Madrid.
Of course, personality as well as politics counts. Just as Salvador Illa, recognizable from his role as Spanish health minister during the pandemic, raised the profile of the Socialists in Catalonia, Ayuso has dominated the column inches and TV screens in Madrid's election, pitting herself against the Spanish government's Covid measures and defiantly keeping bars and restaurants open in Madrid while other areas, such as Catalonia, chose to close them on the advice of health officials.
Another recognizable figure turned out to be one of the big causalities on Madrid's election night. Podemos founder and former Spanish vice president Pablo Iglesias announced his intention to quit politics following the defeat of the left-wing bloc.
Ciudadanos' collapse complete
The electorates of Catalonia and Madrid did coincide on at least one thing: in both elections unionist Ciudadanos saw their vote collapse.
In Catalonia, the largest party in the 2017 election lost over one million votes to finish with six seats, while in Madrid, they were wiped out completely, losing every single one of the 26 seats won two years ago.
Despite their huge losses, Inés Arrimadas is staying on as party leader, saying that she and the leadership team would "keep working" because "Spain is worth it."