Podemos' head Pablo Iglesias quits politics after left-wing defeat in Madrid region election
People's Party's Ayuso prevails doubling number of seats to just shy of majority but can govern with support from far-right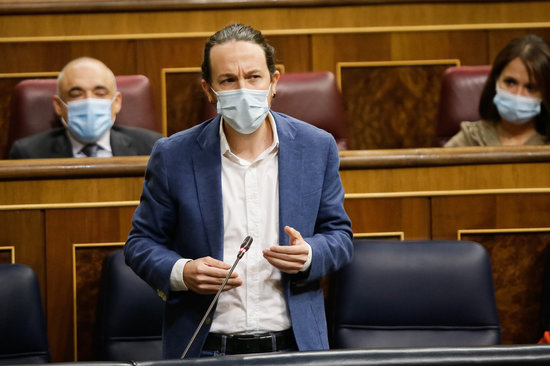 Secretary general of the anti-austerity Podemos party, Pablo Iglesias, has quit politics after the left-wing bloc was defeated by the People's Party and far-right Vox in the Madrid regional election on Tuesday.
The former Spanish vice president, founder of Podemos in 2014 and leader of the party since then, said on Tuesday evening that he was stepping down from all his posts.
"I will stay committed to this country, but I do not want to block a renovation of leadership," he said. "When a person is no longer useful, they have to know when to quit."
According to Iglesias, the person he appointed to succeed him as vice president of Spain two months ago when he left the Spanish government and decided to run in the Madrid regional election, Yolanda Díaz, "will determine the future of Spain's left-wing in the coming years." The current Spanish work minister is expected to succeed Iglesias as leader of Podemos.
Iglesias, who became a household name after the anti-austerity movement 15-M that began in Madrid ten years ago, has been one of the only Spain-wide political leaders to some extent favour an independence referendum in Catalonia.
Right-wing governments in Madrid for 26 years in a row
His move to become the frontrunner in the Madrid election was aimed at avoiding the party from losing all of its seats. Iglesias was successful in this, as the party achieved a three-seat gain from 7 to 10.
Yet, his main goal to contribute to a left-wing victory in the region for the first time in 26 years failed. The left-leaning bloc got 58 seats, six fewer than two years ago, and 20 fewer than the right-wing.