Parliament calls on Puigdemont to explain independence movement's alleged ties to Russia
Committee denies request for Esquerra Republicana's Gabriel Rufián to declare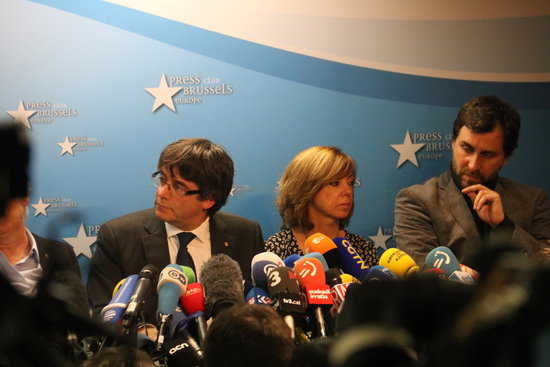 The Catalan parliament committee for Institutional affairs (CAI) has voted in favor of having former president Carles Puigdemont explain the alleged links between the Catalan independence movement and Russia.
This request came from his own political party, Junts per Catalunya (JxCat), the junior coalition partner in government. All political forces approved the appearance, except for far-right VOX, who rejected the proposal, and unionist Ciudadanos, who abstained.
Ciudadanos' leader, Carlos Carrizosa, called for Puigdemont's appearance to "be in-person," but the CAI presidency reminded him that videoconferences are allowed. Puigdemont has been in Belgium since late 2017 to avoid prosecution in Spain for the independence referendum it deems unconstitutional.
Rufián's take on alleged meetings
The committee, however, will not hear what Gabriel Rufián, the Esquerra Republicana de Catalunya (ERC) spokesperson in Spain's Congress, has to say. The group has rejected JxCat's request to have Rufián explain the comments he made on March 15, 2022.
At the time, ERC's spokesperson answered a journalist's question about the "alleged meetings between Puigdemont and Kremlin emissaries in an attempt from the Catalan government to obtain the support of Russian authorities.".
Rufián began his answer by stating he does not like to "talk about Junts or the old Convergència," the party's now-defunct political predecessor whose founder is under investigation for money laundering.
"I think they were little gentlemen who traveled around Europe meeting with the wrong people because they thought they were James Bond for a while," Rufián answered at the time. "They traveled around Europe with the wrong people because they thought they were James Bond. They do not represent us," he added.
Some can interpret Rufián was taking a jab at Puigdemont, as he also mentioned Catalonia's then foreign minister, Raül Romeva of Esquerra, who spent over three years in prison: "It has never been our foreign policy to meet with despots, never. I can assure you that Raül Romeva, who was imprisoned, could have but never did."
More conferences planned
At a previous meeting, the CAI had already approved to hear from Carles Puigdemont's senior advisor, Josep Lluís Alay. Alay had been linked with the Russian government, the Kremlin, in a report by the New York Times.
At the time, he was interviewed on Catalan TV program Més 324, where he claimed the meeting with Russia had been to prepare various conferences and interviews with the former Catalan president following the independence referendum on October 1, 2017, with the aim of explaining the pro-independence cause.