'Normal' Russia visits were to prepare conferences and interviews, Puigdemont aide claims
Josep Lluís Alay defends trips after New York Times probes links between Moscow and former Catalan president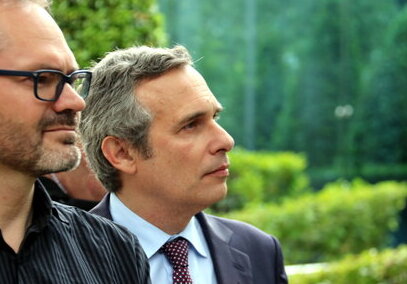 Former Catalan president Carles Puigdemont and his senior advisor Josep Lluís Alay have defended Alay's trips to Moscow to meet with officials, after the New York Times published a story probing Catalan-Russian links.
In an appearance on Catalan TV program Més 324 on Friday night, Alay claimed the contact with Russia was to prepare various conferences and interviews with the former Catalan president following the independence referendum on October 1, 2017, with the aim of explaining the pro-independence cause.
"Going to Russia to talk about how to form our own independent state I don't think is a crime. It's the most normal thing in the world for anyone who wants an independent Catalonia," Alay said.
He also accused Spain – "either the Guardia Civil police or the judge" – of "fraudulently leaking" messages to the New York Times.
"Madrid is constantly trying to exploit the relationship between Russia and Catalonia to cast doubt in Brussels on the Catalan independence movement. To sell the idea that the pro-independence movement wants to destabilize Europe."
Puigdemont considers legal action
Puigdemont released a statement on Friday saying the Alay's Moscow meetings were "perfectly legal and aim to contribute to the democratic resolution of the political conflict between Catalonia and Spain."
The former president, now and MEP and exiled in Brussels, said that he was considering taking legal action against the Spain's Guardia Civil police force, whom he believes leaked reports linking him to Russia.
The New York Times article published on Friday claimed Alay sought help from Russia in the struggle to break with Spain. While Alay and Puigdemont confirmed that the trips to Moscow (which had not been previously reported) took place, they insisted there was nothing untoward about them, with Alay claiming the suggestion that he was seeking assistance from Russia was "a fantasy story created by Madrid."
Catalan government distances itself
The current Catalan administration led by Pere Aragonès has distanced itself from the trips organized by Puigdemont's office.
"These trips to Moscow were not taken on behalf of the Catalan government and took place without Pere Aragonès's knowledge," spokesperson Sergi Sabrià told the New York Times. "These people are not even part of the president's party, which is not aware of the agendas of other parties," he added.
EU "double standards" over Navalny
In February, Russia's foreign affairs minister, Sergey Lavrov, accused the European Union of having "double standards" after Spain's former Socialist foreign minister turned EU High Representative, Josep Borrell, called for the release of opposition leader Alexei Navalny.
"Do not question our judicial system's decisions," Lavrov urged the EU politician after bringing up the sentencing of Catalan leaders, and called allegations his country had aided the 2017 independence push "baseless."