Unease among pro-independence parties following Esquerra politician's Russia remarks
Junts calls for answers after "gentlemen who thought they were James Bond" comments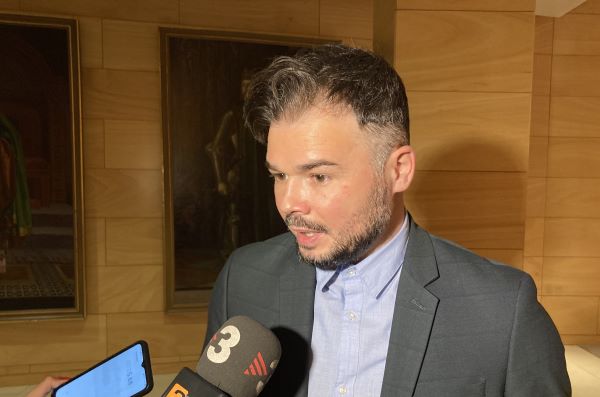 Esquerra Republicana and Junts per Catalunya, Catalonia's pro-independence coalition cabinet parties, are no strangers to spats and disagreements, many of which are often pounced on by the opposition as evidence of their supposed inability to govern.
An incident on Tuesday involving an outspoken Esquerra MP in Madrid, Gabriel Rufián, brought these tensions to the fore once again.
"Gentlemen who thought they were James Bond"
Rufián, Esquerra's spokesperson in Spain's Congress, Tweeted his response to a journalist who asked him about current Junts president and former Catalan president Carles Puigdemont's alleged links to Russia.
Para quien quiera vincularnos a Putin. pic.twitter.com/zlC9eCQqsE

— Gabriel Rufián (@gabrielrufian) March 15, 2022
"I'd like to ask about the information that came out today about the alleged meetings between Puigdemont and Kremlin emissaries in an attempt from the Catalan government to obtain the support of Russian authorities," the reporter can be heard saying at the beginning of the clip.
Rufián begins his answer by stating he does not like to "talk about Junts or the old Convergència," the party's now defunct political predecessor whose founder is under investigation for money laundering, but says he will given its importance.
"I think they were little gentlemen who traveled around Europe meeting with the wrong people because they thought they were James Bond for a while," he says. "They traveled around Europe with the wrong people because they thought they were James Bond. They do not represent us."
"I can assure you it was only to take selfies in certain offices and that was it," he goes on to say.
And in what could be interpreted as him taking a jab at Puigdemont, who left for Belgium in late 2017 to avoid prosecution for the independence referendum deemed illegal by Spain, Rufián mentions Catalonia's then foreign minister, Raül Romeva of Esquerra, who spent over two years in prison: "It has never been our foreign policy to meet with despots, never. I can assure you that Raül Romeva, who was imprisoned, could have but never did."
Junts blasts "inappropriate comments"
Rufián's comments did not sit well with Junts, which has denied the allegations that first emerged last September in a New York Times article linking Puigdemont's senior adviser, Josep Lluis Alay, as well as anonymous pro-independence activist group Tsunami Democràtic, to the Kremlin.
Catalan vice president Jordi Puigneró described Rufián's remarks as "intolerable," accused him of being a spokesperson for "the cesspit of the Spanish state," and called on president Pere Aragonès to clarify Esquerra's stance.
Meanwhile, Junts' spokesperson in the Catalan parliament, Albert Batet, said Rufián's comments were "inappropriate" and requested he come to the chamber for questioning.
Alay, at the center of these allegations, has admitted traveling to Russia on three occasions, but denied these trips were in search of support for Catalan independence but rather that Russian media were interested in interviewing Puigdemont. Alay also rejected claims that he was being used by the Kremlin to destabilize the European Union.
And although Junts welcomed Rufián's apology for expressing himself "forcefully" and in a manner that "bothered some," the party still filed a request to have the MP answer questions in the Catalan parliament: "There can be no doubts about the independence movement's international affairs."