Next Barcelona mayor up in the air as inauguration draws near
With June 15 deadline approaching, capital's parties look for formulas for securing majority, with acting mayor Ada Colau's BComú group to consult members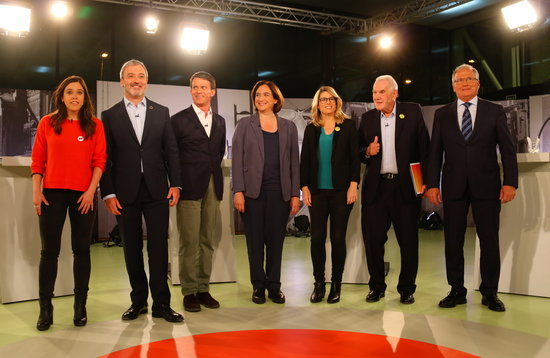 On June 15, Barcelona is set to choose a new mayor, but despite days of talks between the city's political parties since the May 26 local election, it is still far from clear who might end up in the post.
Ernest Maragall of the pro-independence Esquerra party (ERC) narrowly won the election, and on Tuesday he confirmed he will bid for mayor despite lacking a majority of votes in the chamber.
Maragall, who rules out any understanding with the Socialist party (PSC) due to its unionist stance, is appealing to the leftwing Barcelona en Comú party (BComú) of acting mayor Ada Colau for support.
Colau, who is bidding to remain in the top post, is willing to work with ERC, but would prefer a tripartite coalition of leftwing parties that would include the participation of the Socialists.
Maragall wants meeting of leftwing parties
While Maragall says the distance between his party and PSC is "infinite," and despite calling a potential threeway coalition "senseless," he has proposed a meeting between the three parties.
Yet, whatever progress might be made in any such meeting, Maragall continues to insist that as the winner of the election he should be mayor, with an as yet undefined role for Colau.
However, it is unlikely that any such meeting will take place, as PSC has already said it will not support Maragall as mayor and prefers to open talks "with all municipal parties" after the inauguration.
Valls, an alternative for Colau?
One way Colau might keep her post is to take up the offer of support from former French president, Manuel Valls, whose candidacy won six seats, and who is keen to keep Maragall out of power.
Backed by the unionist Ciutadans party (Cs), Valls has offered Colau votes "for free" on specific issues should she form a minority government with PSC, blocking the way to a pro-independence mayor.
Yet, on Wednesday, Cs leader, Albert Rivera, said he "disagrees" with Valls' strategy to allow Colau to remain mayor, labelling her an "independence-supporting populist."
Despite Rivera's objections, Valls can still go ahead with his offer, as only three of the seats that his candidacy won were Cs members, with the other three being independent candidates.
While Maragall had sworn to break off talks with Colau's negotiators unless she ruled out talking to Valls and the Socialists, representatives of ERC and BComú are due to meet for talks on Wednesday.
BComú to appeal to members
To help find a solution out of the impasse, BComú has decided to appeal to its members for their opinion on whether the party should side with PSC with Colau as mayor, or with ERC and make Maragall mayor.
Starting on Thursday, and lasting until Friday evening at 5pm, 1,000 BComú members will be consulted about which of the options they prefer, but they will not be given the option of voting to support Colau's original proposal for a tripartite leftwing coalition.
Colau herself has called a deal with the Socialists the "best option," which would allow her to remain mayor, although has also admitted that she "does not like" the idea of relying on Valls, which has also raised "many doubts" within the party.
Insisting that the choice offered to the members "is not either PSC or ERC," but whether the party should put keeping the city's top post first. BComú has also said that no party deals will be made until after the June 15 inaugural session.