Maragall edges ahead of Colau in race for Barcelona mayor
In a photo finish, the pro-independence Esquerra candidate nudges past the left-wing BComú's incumbent in the Catalan capital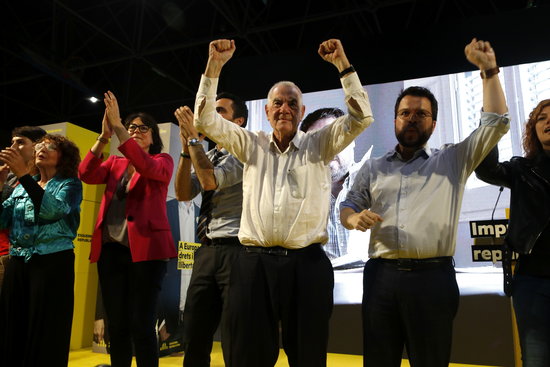 All the polls suggested it was going to be a tight race in the Barcelona local election, and that was exactly how it turned out on Sunday.
With 90% of the votes counted, Ernest Maragall overcame incumbent mayor Ada Colau in a technical draw that came down to a difference of just 4,000 votes.
Maragall's pro-independence party Esquerra and Colau's left-wing Barcelona en Comú won 10 seats each, but with the former doubling their previous number of seats and winning by a nose.
However, as the results began to come in, the scenario looked very different, with the Socialists' Jaume Collboni on top at first, and then Colau, before Maragall rallied late on.
Pro-independence mayor
The pro-independence candidate will now replace Colau as mayor of the Catalan capital, unless the parties come to an alternative arrangement.
After leading the pack, the Socialists ended up with eight seats, four more than before, with the pro-independence Junts per Catalunya ending up with five seats (five fewer).
Coalition offer
Colau acknowledged Maragall's win and offered the chance to form a "cross-party, left-wing government" after what she described as a "historic" victory for the left in Barcelona.
Maragall himself stretched out a hand to Colau, as well as the pro-independence Junts per Catalunya candidate, the jailed Joaquim Forn.
The likely next mayor of Barcelona stressed that the city council will be committed to "dignity, justice and freedom" and he underlined that it would "not be up for negotiation."