Acting Barcelona mayor, closer to staying in power despite coming second in election
Ada Colau expected to bid for mayoral post while talks are underway with Socialists to seal a coalition government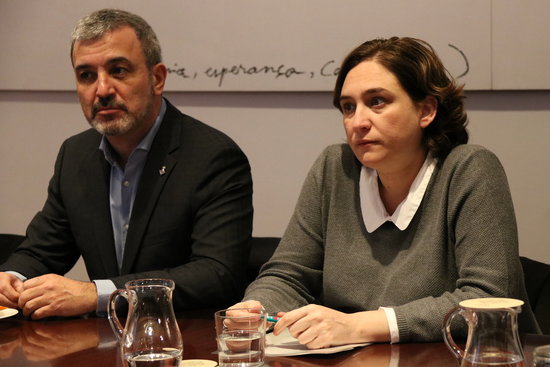 The acting Barcelona mayor, Ada Colau, could retain the city's top post despite coming second in the May 26 local election, behind the pro-independence Esquerra party's Ernest Maragall.
The winning candidate will become mayor unless an alternative majority of councilors (21 out of 41) agrees on appointing another official by June 15.
The leadership of Colau's Barcelona en Comú decided to put forward her bid for the mayoral post on June 15, which party members ratified on Friday evening.
Colau has called on Esquerra and the Socialists to overcome the pro-independence – unionist divide and reach a deal with her to bring the city's three leftwing parties together, which would have 28 out of 41 councilors.
Colau has held talks with the Socialists, who came third in the election, about the possibility of forming a coalition leftwing government.
The two parties do not have enough seats to frustrate Maragall's hopes of being elected – yet Manuel Valls, who came fourth, has said he is ready to vote for Colau in order to avoid a pro-independence mayor being sworn in.
Barcelona en Comú, the Socialists and Manuel Valls together have enough councilors to stop Maragall, but the Esquerra candidate said on Friday that he has not given up on reaching a deal with Colau.
After rejecting a tripartite leftwing coalition that includes the Socialists, Maragall called on Colau to stop "deceiving the public" and accused her of "asking for the support of the Socialists and Valls."
Socialists: "It's not going to be easy"
The Socialists have ruled out supporting Barcelona en Comú's candidate unless they reach an agreement over the governance of the city. "It is not going to be easy," said Jaume Collboni, leader of the Socialist party.
Meanwhile, Maragall warned Colau that accepting Valls' offer in order to stay in power would be "denying the sovereignty of Barcelona." While the acting mayor is a champion of left-wing, anti-establishment politics, and tends not to take a stand on the independence issue, the former French prime minister is seen as a neoliberal representing opposing values in some areas.
On Wednesday, Maragall announced that he had frozen his talks with Barcelona en Comú until Colau gives up her negotiations with the Socialists, but resumed the talks on Friday.