"I haven't been a corrupt politician", states former Catalan President Jordi Pujol but doesn't answer questions
Jordi Pujol, who chaired the Catalan Government for 23 years between 1980 and 2003, has given further explanations about his fiscal fraud confession to the Catalan Parliament but he has not answered the manifold questions from the MPs. Furthermore, Pujol was visibly angry over some accusations launched by Spanish nationalist parties and alternative left MPs. There had been a lot of expectation for this parliamentary hearing for the person who used to lead the centre-right Catalan nationalism from the mid-1970s to the early 2000s, who confessed at the end of July that his family had been storing money in tax havens for the last 34 years without informing tax authorities. In the current political situation of tensions between Catalonia and Spain, with many corruption scandals emerging and with millions of people suffering from the hard effects of the economic crisis, Pujol's confession ignited the atmosphere. On top of this, the former Catalan President had referred on many occasions to the merits of hard work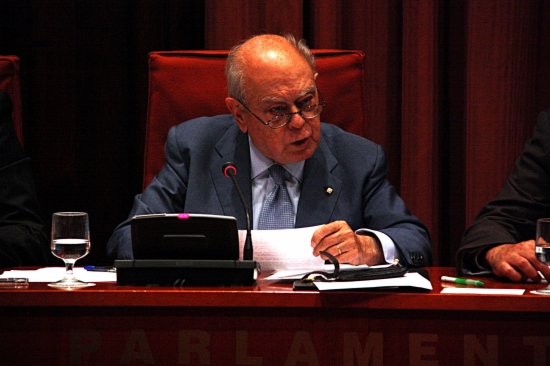 Barcelona (ACN).- On Friday, Jordi Pujol, who chaired the Catalan Government for 23 consecutive years between 1980 and 2003, has given further explanations about his fiscal fraud confession to the Catalan Parliament but he has not answered the manifold questions with which the MPs addressed him. In fact, Pujol, aged 84, seemed visibly angry with some accusations launched by Spanish nationalist parties and alternative left MPs, who accused him, without any factual evidences, of "stealing" public money while he was in office and of literally leading "a band" of thieves. Pujol was talking before a parliamentary commission for his confession, made at the end of July, that his family had been storing money in tax havens for the last 34 years without informing tax authorities. However, some opposition parties used the confession to accuse Pujol of further offenses and questioned his entire government, accusing it of systematically diverting a percentage of public money into party or private pockets. Spanish nationalist parties and alternative left MPs also directed their accusations towards the coalition that Pujol founded; the centre-right pro-Catalan State coalition CiU, which currently runs the Catalan Government and which is an essential force within the self-determination process.
In the current political situation of tensions between Catalonia and Spain, with many corruption scandals emerging and with millions of people suffering from the hard effects of the economic crisis, Pujol's confession shocked the Catalan society and ignited the atmosphere. In addition, Spanish nationalists, including members of the Spanish Government, intentionally merged the question of Catalonia's self-determination process with political corruption.
However, Pujol, who led the centre-right Catalan nationalism from the mid-1970s to the early 2000s, had opposed Catalonia's independence until very recently and spent most of his life working to find a better way to accommodate Catalonia within a more modern Spain. In fact, Spain's democratic transition after Franco, its current territorial model and the stability of the Spanish Governments in the 1990s – essential to its access of the Eurozone – cannot be understood without the influence of Jordi Pujol. Furthermore, there are increasing voices saying that Spanish authorities knew about Pujol's fraud for decades and decided to cover up for him in exchange of his opposition to Catalonia's independence.
A hearing that everybody was waiting for
There was a lot of expectation for Jordi Pujol's parliamentary hearing. Furthermore, 10 days ago, Pujol's oldest son testified for five hours in front of Madrid-based 'Audiencia Nacional', Spain's High Court investigating terrorism, organised crime and cross-border financial crime, for alleged illicit businesses. The judge was investigating whether he might have used his father's name and influence to get private companies contracts with public bodies in Catalonia.
The hearing of the former Catalan President had four main parts: an initial speech by Jordi Pujol in which he provided further details of the facts confessed on the last 25th of July; the first round of questions from the parliamentary groups; the angry response from Pujol and a last round of questions, which were not answered by the former Catalan President.
Money kept abroad from Franco times
In the initial 30 minutes speech, Pujol stressed that he had no obligation to come to the Parliament but that he was doing so out of the "respect" he has for an institution which he contributed to restore after Franco's dictatorship. Pujol stressed that he had not entered into politics "to make money" as "I already had a lot of money". The former Catalan President was a leading businessman in the 1960s and 1970s, leading many business projects, including one of Catalonia's main banks. Banca Catalana. He also said that, since 1958, he decided to work for Catalonia, to work for its self-government but also to strengthen its economy and culture. "I have devoted my life to this project" he emphasised.
"I have not been a corrupt politician", he underlined. Pujol, who spent 4 years in prison during Franco's dictatorship for his opposition to the regime, explained that his father put some money in Switzerland "just in case", Pujol and his family should have had to leave the country to go into exile. The money had come from his father's businesses through trading with foreign currencies, although he did not provide any document proving what he was saying.
Pujol explained that the money left in Switzerland by his father when he died in 1980 amounted to 140 million pesetas and was in dollars. At that time, Pujol had just became president of the Catalan Government, a year before the 1981 coup d'état. The money was left to Pujol's wife and their sons, and not to him. As he had already explained in the confession, it was administered by a third person, as the former Catalan President refused to hear any details about it, he said. However, Pujol refused to give the name of this person. When all Pujol's children were no longer minor, the oldest son, Jordi Pujol Ferrussola, started to manage the money and moved it from Switzerland to Andorra. The former Catalan President stressed that with the years, after the currency devaluations, inflation and investments made with this money, the family had €4.8 million in Andorra, as certified by Andorra banks. This is all the money Pujol acknowledged to have abroad.
Pujol does not answer specific questions and gets angry with some accusations thrown at him
At this point, each political group started to present their questions, with 10 minutes each. There were three types of speeches, mostly differing in their tone. The two main opposition parties, the left-wing Catalan independence party ERC and the Catalan Socialist Party (PSC), presented their questions in a respectful way, although they underlined how disappointed and puzzled they were by the fraud confession. Their questions were about the fraud and also about whether some of the rumours regarding government corruption and family businesses were true.
The second groups of questions were from the alternative left and Spanish nationalist parties, which are those furthest from what Pujol represents. Their tone was extremely hard and some of the statements directly accused Pujol of "stealing public money" and leading "a mafia" and "a gang" of thieves. Those using this tone were the People's Party (PP) – which runs the Spanish Government, the populist Ciutadans (C's) and the alternative left and radical independence party CUP. The Catalan green socialist and post-communist coalition (ICV-EUiA) also used a very strong tone but was more respectful than the other three. Finally, the coalition Pujol had founded, who have put him aside since the confession, recognised Pujol's work within government during his 23 years in office although they stressed how saddened they were by the facts confessed, which the CiU condemned. They also thanked him for coming and accused the PP and C's of playing dirty.
Then, it was Pujol's turn again. The former Catalan President did not answer any specific questions and instead was angered by the false accusations sent by the PP, C's and CUP. However, Pujol did not make any distinction and put all the MPs in the same group. He criticised them of trying to "launch a general campaign" against him and his government years. He also accused some MPs of "lying", and of presenting false figures and unproven accusations. He asked the MPs to have more respect for the Parliament and repeated that he had no obligation to come and yet he did it. Pujol said that he had appeared "naked" in front of the public opinion and the Parliament, exposing intimate affairs and confessing painful facts, something which is "extremely rare" in Catalan and Spanish politics, he underlined.
The groups got 2.5 minutes to re-direct questions to Pujol and they all, except the CiU, complained about Pujol's angry tone and for his lack of responses to the questions. The former President had one last round of replies but he declined to use it and the session ended.