Extradition process against exiled leader Ponsatí in Scotland suspended
Procedure against former minister, now MEP, will be halted until EU parliament votes on whether to lift her immunity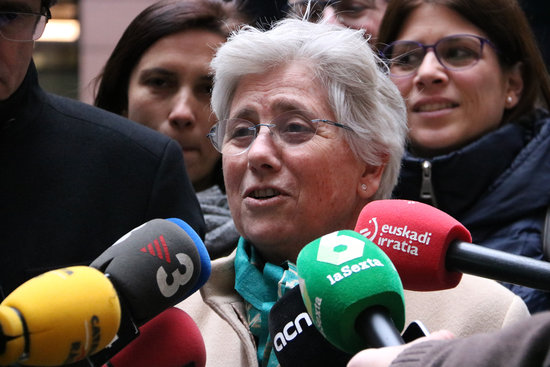 Exiled Catalan independence leader Clara Ponsatí has had her European arrest warrant suspended by Scottish judges.
The decision was made to suspend the warrant at least until the European Parliament votes on the extent of her immunity as an MEP.
The decision for the European chamber to vote on the extent of immunity was requested by the Supreme Court, as part of the process of prosecuting officials elected to the continental parliament.
During a brief hearing in Edinburgh, the former minister's defense team stated that extraditing Ponsatí with parliamentary immunity would be "an abuse of the arrest warrant system."
Ponsatí's lawyer, Aamer Anwar, said that the suspension is "another victory against Spain's abuse of the rule of law."
"We still have a long way to go," he added. The judge has set a procedural hearing for June 18.
Other exiled leaders
As well as Ponsatí, former Catalan president Carles Puigdemont is also in exile following Catalonia's independence push in late 2017.
He and Toni Comín, both now residing in Belgium, were elected to the European Parliament in the vote in May 2019, while Clara Ponsatí was recognised as an MEP following the UK's exit from the EU in January, 2020.
This is the third time Spain has tried to extradite Ponsatí, Puigdemont, and Comín, with each time failing.
Another extradition request is still open for Lluís Puig, as he is not an MEP and therefore does not enjoy parliamentary immunity as the others do.
In April, former president Carles Puigdemont will release a book entitled 'I Explain Myself: From Investiture to Exile.'