EU should treat Catalan independence campaign like Scotland's, says foreign minister
Victòria Alsina tells British newspaper that European Union gives "special treatment" to Scotland and is "cold" towards Catalonia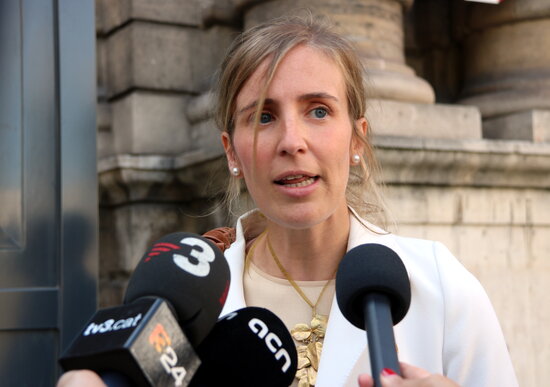 An independent Catalonia should be treated the same as an independent Scotland regarding European Union membership, Catalan foreign minister Victòria Alsina has said.
In an interview with British broadsheet The Telegraph, Alsina accused the EU of giving "special treatment" to Scotland and having an inconsistent stance on the two countries' independence bids.
"What goes for Scotland must also go for Catalonia. If Europe is favorable towards Scotland having a referendum, it has to look favorably on Catalonia having a referendum," Alsina said in an interview published on Saturday, coinciding with pro-independence rallies for Catalonia's National Day.
"If Scotland were to vote in favor of independence and entered as a new member, this mechanism would have to be applied to Catalonia as well," she added.
Following the 2016 Brexit referendum, in which a majority of voters in Scotland (and Northern Ireland) voted against leaving the EU, Scotland's First Minister, Nicola Sturgeon, remarked that the bloc was "very sympathetic" to finding a way for Scotland to remain.
Alsina said that the "complicity" offered to Scotland by European leaders was in stark contrast to the "cold" nature of their approach to Catalonia.
The European Union has repeatedly said that the Catalan independence push is an "internal matter" for Spain.
"The constitutional order of the member states (and former member states) of the EU are internal matters for them. We never speculate on the accession of regions to the EU," the Telegraph reported the European Commission's chief spokesperson as saying.
Sedition reform and exiled politicians
In her interview with the London-based newspaper, the Catalan foreign minister also called on Spain to adopt the recommendations approved by the parliamentary assembly of the Council of Europe in June.
While one of the main recommendations – the release of jailed politicians and pro-independence activists – has been implemented, the report also called on Spain to reform its laws on sedition and rebellion and drop its ongoing extradition requests for exiled leaders including former president Carles Puigdemont, now an MEP in Brussels.
Podcast
Listen to episode 28 of our Filling the Sink podcast, recorded in May: Independence campaigns in Scotland and Catalonia – siblings or distant relatives?