Between 108,000 and 400,000 attendees in National Day pro-independence rally
10th straight mass National Day demonstration with fewer attendees than other years due to Covid-19 and disappointment with lack of political unity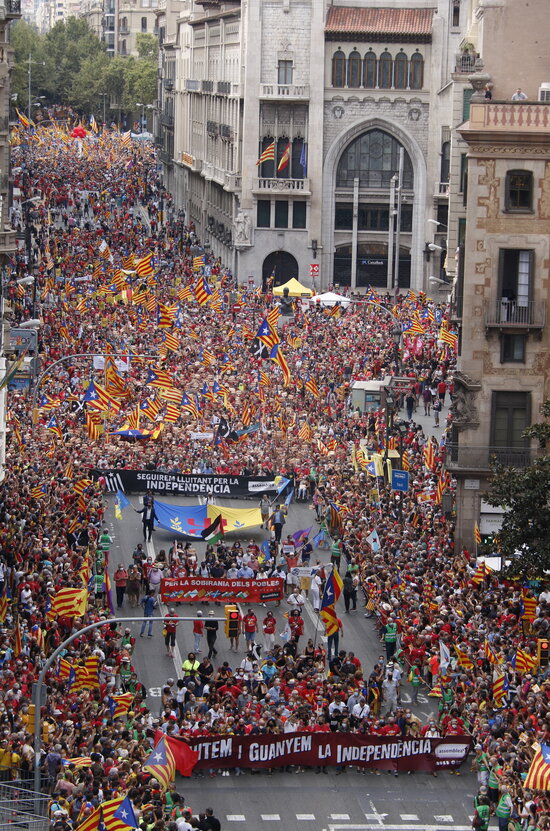 Thousands of people took to the streets in Barcelona on Saturday afternoon in a peaceful, family-friendly mood, marking the tenth year in a row that a massive pro-independence rally is held for Catalonia's National Day.
The grassroots group Catalan National Assembly (ANC), the organizers of the event, 400,000 people attended, but Barcelona's local police estimated the attendance at 108,000 – both figures are very far from the peak Diada rallies in the mid-2010s, with up to 1.8 million people taking to the streets.
Check out our latest podcast on La Diada to find out all about the National Day and the pro-independence demonstrations in detail:
This year's rally began in Barcelona at 5:14 pm in Plaça Urquinaona (the scene of violent clashes between police and rioters following the sentencing of pro-independence leaders in 2019), and ended at the Estació de França station, near the Catalan parliament.
The event ended with leaders of the organizing organizations, ANC and Òmnium, urging the government to "execute independence."
They also criticized parties for lack of unity and urged them to have "shared strategies" towards a split with Spain.
It was one of the largest demonstrations in Europe during Covid-19 times. The organizers set loudspeakers reminding the public to wear face masks, keep distance when possible and stick to one's social bubble.
Around 200 buses traveled from across the country to join the rally.
The rally was somewhat special since it was the first one after the 2017 referendum leaders were home after over three years behind bars. Some of the nine politicians and activists who were pardoned in June by the Spanish government were enthusiastically cheered by demonstrators.
Former ANC presidents Jordi Sànchez and Carme Forcadell, were among those receiving ovations, such as Òmnium's leader Jordi Cuixart.
When the main rally ended, thousands of pro-independence supporters stayed in Via Laietana, the street in the center of Barcelona where the Spanish police headquarters are located. Some protesters threw rocks at the police officers guarding the building, and they responded by dispersing the crowd with their batons.
In the morning, Catalan officials attended the floral tribute to national hero Rafael Casanova. "Today we are taking to the streets so that we are as strong as ever in these talks with Spain next week," said presidency minister Laura Vilagrà. In contrast, unionist parties accused pro-independence forces of appropriating the National Holiday and turning it into an "exclusionary" celebration.