'Democratic scandal': Pro-referendum parties blast Supreme Court decision to remove Torra
Former president Puigdemont says ruling shows Spain is "a corrupt state"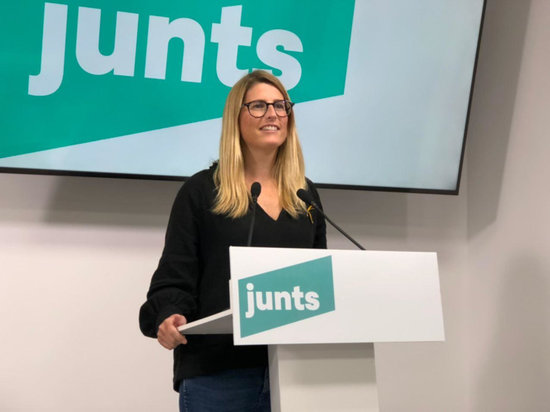 As the news broke on Monday that the Spanish Supreme Court had upheld a ruling to remove Catalan president Quim Torra from office, many parties and figures moved quickly to condemn the decision.
As expected, Torra's party Junts per Catalunya (JxCat) fiercely criticized the ruling, as did their governing partners, Esquerra Republicana (ERC).
Among the opposition parties, the Supreme Court decision was welcomed by Ciudadanos and others, but denounced by the far-left pro-independence Candidatura d'Unitat Popular (CUP) and the non-aligned Catalunya En Comú-Podem (CatECP).
Jailed and exiled pro-independence leaders, including former president Carles Puigdemont, also spoke out against Torra's disqualification.
Governing parties united in anger
JxCat called the Supreme Court ruling a new "democratic scandal", which confirms Spanish "repression", and shows that there is no "political answer" to resolving the Catalan crisis. Spokesperson Elsa Artadi moved swiftly into election mode and called on pro-independence supporters to work to deliver a majority of both votes and seats in the next parliament, thereby "ratifying" the mandate of the October 2017 referendum and voting in a "clearly pro-independence" government.
ERC, in government with JxCat, said that barring Torra from office was an "attack" on democracy and on the country's foremost institution. Spokesperson Marta Vilalta said that Torra "defended freedom of expression" and that the Supreme Court decision was another example of Spain's fight against the Catalan independence movement.
Sympathy from some opposition parties
Pro-independence CUP called Torra's ousting a "judicial coup" that "removes civil and political rights". Their figurehead Carles Riera called for protests, saying Spanish courts "indoctrinate" on behalf of the king and for the unity of Spain. Spokesperson Maria Rovira criticized JxCat and ERC for not agreeing on a "concrete anti-repression strategy" and allowing Spanish courts to "decide" the date of the next parliamentary elections.
CatECP, neutral on the independence question, called Torra's disqualification "disproportionate". Leader Jéssica Albiach said it was "very serious" and "the worst possible ending to a lost legislature."
Former leader reacts
The former Catalan president, Carles Puigdemont responded to Torra's forced removal from office by calling Spain a "corrupt state from the royal family to the judiciary".
"Once again Spain interferes with our democratic institutions," he posted on Twitter. "From dismissal to dismissal until the final republic."
Puigdemont, who picked Torra to be his successor, is now an MEP, exiled in Belgium and still wanted by Spain for his role in the 2017 independence push.
Jailed pro-independence activist Jordi Cuixart also reacted on Twitter, saying, "removing the president due to a banner is an excuse to again manipulate the democratic will of the people of Catalonia.
Cuixart is current serving a nine-year sentence for sedition, despite calls from UN groups and Amnesty International for his and others' release.