Unionist parties welcome Supreme Court ruling upholding Torra's disqualification
Cs head Arrimadas says "justice served" over display of "separatist propaganda"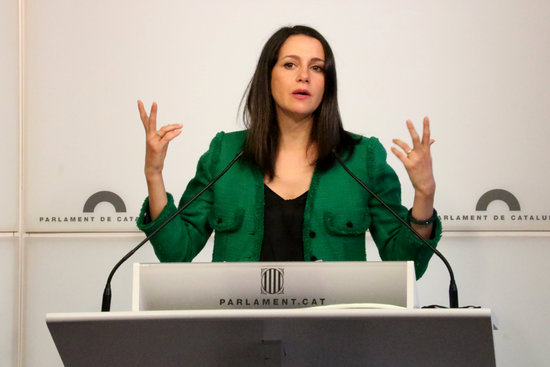 News of the Spanish Supreme Court's decision to uphold the Catalan High Court's December 2019 ruling barring Quim Torra from office for 18 months has caused a wave of reactions throughout the political world, with unionist parties celebrating the president's conviction for disobedience.
Inés Arrimadas, who up until March 2019 was at the helm of the Catalan branch of Ciudadanos (Cs) before moving to Madrid to serve her party, was swift to respond to the Supreme Court decision.
"Public spaces are for everybody and a politician cannot break the law to flood us with separatist propaganda," Arrimadas tweeted. According to her, "Justice has been served."
Along the same lines, the People's Party's Alejandro Fernández dismissed Torra's assertions that his campaign to keep yellow ribbons and banners in solidarity with the jailed independence leaders was a matter of defending fundamental rights.
"It was not a neutral campaign for freedoms," the conservative politician argued in an interview, suggesting that Torra's actions meant he had been asking to be barred from office.
The Socialists also showed full support for the court's decision. Deputy secretary general Eva Granados said that Torra's ousting was "the logical consequence that should happen under any rule of law," adding, "what we have is the disqualification of a president who has disobeyed."
Miquel Iceta, of the same party as Granados, also questioned the decision to wait until early next year to elect a new president: "We haven't found the answer to a very simple question. What is there to gain with another 2 months of an interim period [before an election]?"
Meanwhile, far-right Vox, who acted as a private prosecutor in Torra's disobedience case, celebrated his disqualification and went as far as claiming credit for it.
"Torra disqualified, once more thanks to Vox and our legal team," spokesperson Iván Espinosa de los Monteros declared.
In contrast, Catalonia's governing coalition partners and others were fiercely critical of Monday's ruling.