Court ruling a 'victory with a sting in the tail' for Junqueras, say legal experts
Two law professors shed light on the decision of the European Court of Justice confirming immunity of jailed Catalan leader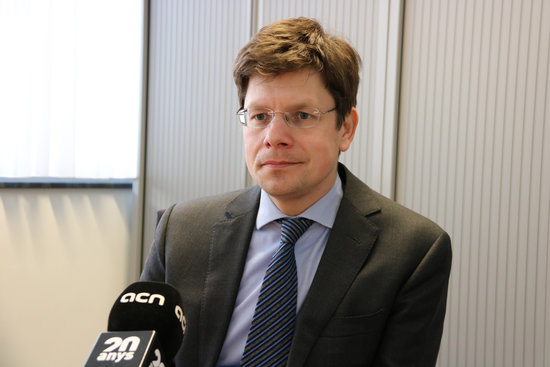 Thursday's ruling by the European Court of Justice (ECJ) that jailed independence leader Oriol Junqueras had parliamentary immunity from when he was elected an MEP resolves one issue relating to the political rights of the former Catalan vice president.
Yet, the implications of the ruling and what might happen next is another matter, with the high court leaving it to Spain's Supreme Court, which sentenced Junqueras to 13 years in prison for sedition, to work things out with the European Parliament.
To shed light on the matter, Catalan News spoke to two legal experts about what the court's decision means for Junqueras, and former president Carles Puigdemont and minister Toni Comín, who also became MEPs in May but have not been able to take up their seats.
Implications for Junqueras
Dr. Henri de WaeleDr. Henri de Waele, who is Full Professor of International and European Law at the Radboud University Nijmegen, in the Netherlands, says "at first sight, it looks like a resounding victory for Mr Junqueras," but he adds that "the sting may well be in the tail."
De Waele says the EU court "found rather a clever way out" by leaving the issue to the Supreme Court and adds that "it seems Mr Junqueras can still be kept in custody so long as the national court deems there are good reasons why his immunity should be limited."
Dr Sascha Hardt, Assistant Professor of Constitutional Law at Maastricht University agrees, pointing out that "the court did NOT decide today that Mr Junqueras must be freed, or his conviction overturned."
Hardt adds that the ECJ said that Junqueras "should have been enabled, back before his conviction, to leave prison to take up his mandate," and he adds that "it is not clear what will happen next; the ball is now in the field of the Spanish authorities to react."
Consequences for Puigdemont and Comín
Both experts also agree that the ruling has a bearing on the situation of Puigdemont and Comín, who are fighting extradition in Belgium, "as this ruling confirms now that they have become MEPs with their election," in the words of Hardt.
"The European Parliament may have no other choice but to admit them as MEPs very soon, even if the Spanish authorities would prove unwilling to add them to the official list of electees," says De Waele.
Meanwhile, Hardt says the ruling "affects their position significantly," and "I expect Mr Puigdemont and Mr Comín to be recognized as MEPs," although he adds that "this does not mean their immunity cannot subsequently be lifted by the European Parliament."
As De Waele points out, the ruling leaves it "to European institutions (here, the Parliament) to decide on possible rescinding of immunity and curtailing of the rights concerned," and that "it is only when the Parliament has taken its decision that the case is complete."