Puigdemont extradition hearing delayed due to upcoming EU court ruling
Session at Brussels court postponed until February 3 with Luxembourg judges' decision on jailed Junqueras' immunity expected on Thursday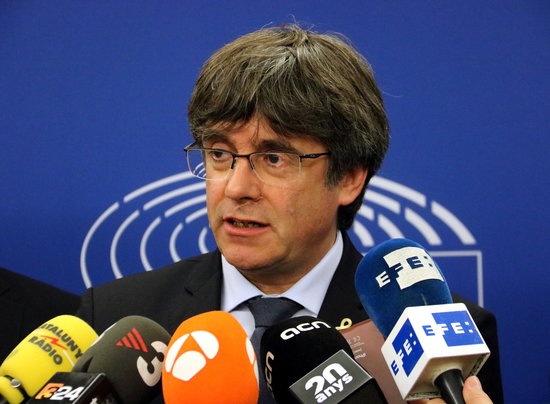 The extradition hearing of the Catalan former president and two of his former ministers in Belgium has again been delayed.
On Monday, a Brussels court accepted the defense's request of postponing at least until the EU court rules on the immunity of former vice president Oriol Junqueras on Thursday, after he was elected MEP in the last European elections held in May 2019.
The judges scheduled a new hearing for Puigdemont on February 3, 2020, at 2pm, taking into account that the Luxembourg decision on Junqueras could also affect the former president, as both were elected MEPs in the last election, and both were barred from taking up their seats.
Now both 2017 referendum leaders seek to have their immunity granted arguing they have the right as elects even though Spain's judiciary did not allow them to take up their seats.
The European Court of Justice will rule on Junqueras on Thursday.
"The judge has considered that the best was to wait until February 3, without any opposition, not even the prosecutor," said Puigdemont to the press after the short hearing. "Our lawyers have been doing very important work to ensure that what we've been defending from day one prevails: justice, where our rights are guaranteed."
"The decision on Thursday [on Junqueras] is very relevant for all the rights at stake," said Puigdemont, hoping his former second-in-command is released following the EU court ruling.
Third extradition attempt after two failures
The Catalan independence leader now in exile in Waterloo is facing Spain's third attempt to extradite him for his role in the 2017 referendum after two previous failed attempts in Belgium and Germany.
He is requested to be handed in on charges of sedition and misuse of funds, like his former health minister, Toni Comín. Former culture minister Lluís Puig is facing a European arrest warrant for misuse of funds and disobedience.
Puigdemont's latest extradition request was issued the day the sentence to those leaders who stayed in Spain after the 2017 events was handed – Comín and Puig got their arrest warrants soon afterwards.
All three cases were merged after separate hearings were held and resulted in the first postponement of the procedures.