Congress approves state of alarm extension until May 9
Government motion passes with large majority despite strong criticism from opposition parties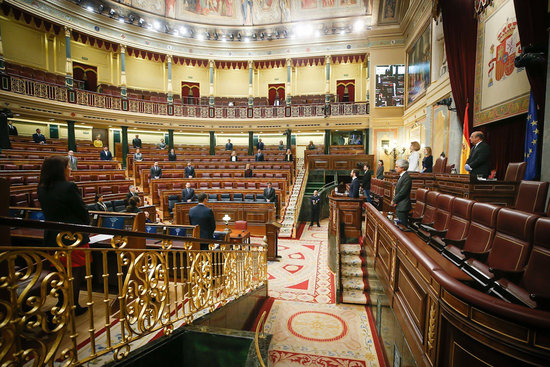 The Spanish Congress has approved by a large majority the third extension of the state of alarm until May 9, following a debate which saw harsh criticism of the government from opposition parties.
This was another marathon plenary session - it lasted almost 11 hours - in a similar vein to the Congress debates ahead of the previous extensions to the state of alarm.
The Spanish government on this occasion had the support of the right wing People's Party (PP) and Ciudadanos (Cs) as well as the Basque Nationalist Party.
Pro-independence parties Junts per Catalunya (JxC) and CUP voted against the government, as did the far right Vox.
In all, 269 MPs voted in favor, 60 voted against and there were 16 abstentions, including the members of the pro-independence party Esquerra Republicana (ERC).
Government criticized
Spanish president Pedro Sánchez opened proceedings just after 9am on Wednesday morning. He highlighted the positive trend of recent Covid-19 figures and explained that exiting lockdown may not proceed at the same pace across Spain.
"We are going to take steps forward, we are going to take steps back, depending on how the pandemic behaves, in each of the territories." he said.
Although they voted with the government, PP and Cs criticized Sánchez's handling of the crisis.
PP leader Pablo Casado said that if Covid-19 was an iceberg the "government is the Titanic," and called on "Captain Sánchez" to "take the helm."
ERC abstained but their spokesperson in Madrid Gabriel Rufián described it as an "abstention closer to 'no' than ever."
JxC's Laura Borràs said she wanted to echo the words of Catalan government spokesperson Meritxell Budó by saying an independent Catalonia would have dealt better with the coronavirus crisis.
"We have fundamental reasons to believe that having an independent state, the response would have been more agile and the actions more effective."