Catalan president urges Spanish president to reach 'agreements' on negotiation table
Pere Aragonès warns that Pedro Sánchez needs his party support to remain in power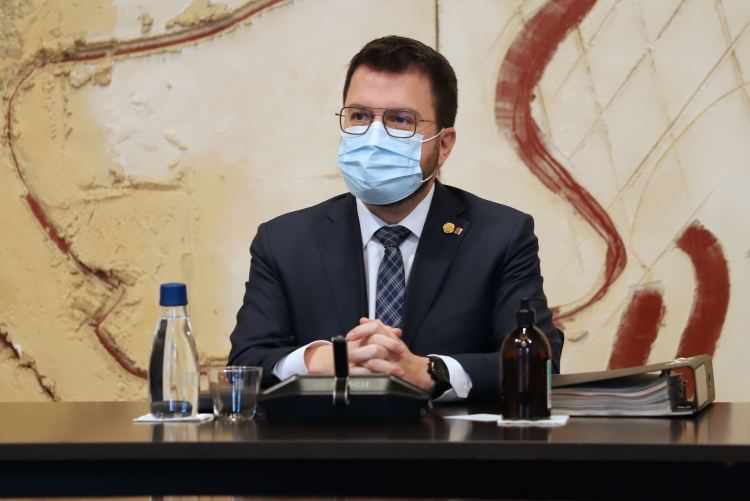 "Moving forward and reaching agreements," are what Catalan president Pere Aragonès, of Esquerra Republicana de Catalunya (ERC), has requested from Socialist Spanish president Pedro Sánchez regarding the negotiation table between Catalonia's and Spain's cabinets.
Aragonès has warned Sánchez that the meeting between both executives must continue and agreements should be reached. If Spain's president "wants to continue exerting his responsibilities, he will have to speak and reach agreements," Aragonès said on Wednesday morning during an interview with the Catalan public broadcaster.
The Catalan president especially wants deals on what he describes as anti-repression, the judicialization of the political conflict regarding independence, as well as recognition for Catalonia as a nation.
Referring to the junior coalition partner, Junts per Catalunya (JxCat), the ERC leader welcomed its members to the negotiation table with the Spanish government. "The doors to assist with the dialogue table are open," Aragonès said.
The invitation arrives after the last meeting, held on September 15, 2021 in Barcelona, between both cabinets came at a time of tension between Catalonia's two ruling parties.
The first meeting was marked by the notable absence of representatives of JxCat, which was blocked from sending non-cabinet officials, including party members who were formerly imprisoned for their roles in the failed independence push of 2017 and pardoned by Spain in June 2021 but are still banned from holding public office.
Divisions have mounted recently after the parliament speaker, of JxCat, attended an unauthorized protest on Saturday, and a speech by Pere Aragonès on Monday to mark the one-year anniversary of the elections that saw him named president.
The president's reference to the pardons for Catalonia's referendum organizers was met with criticism from Junts. In an interview with public Catalunya Ràdio radio on Tuesday, the party's secretary-general and formerly imprisoned leader Jordi Sànchez said he interpreted his remarks as an allusion to "the first evidence of dialogue with Spain."
"We didn't know anything about this," he said. "If this is the case, ERC negotiators should have provided us with the details."
Response to Sànchez criticism
"I did not say that," Aragonès responded on Wednesday.
In fact, he highlighted that the sentence he uttered as part of his speech is "the same one" that the "government" had agreed to state on June 21 last year when he reacted to the announcement of the pardons.
Aragonès claimed to feel "annoyed" after no one from JxCat called him to raise their concerns instead of expressing their opinions to media outlets.
Former Catalan president Carles Puigdemont, currently living in Belgium after he left Catalonia in 2017, had urged Aragonès to show "some respect for the political strategy in exile," in a Tweet on Tuesday. The Catalan president said that he had called Puigdemont to clarify the stance he had taken in his speech.
On a similar note, Government spokesperson Patrícia Plaja answered Sànchez's question regarding the pardons on Tuesday: "at no point" did Aragonès say they were the result of "negotiations" with Spain, but rather that the pro-independence victory in the Catalan election had forced Spain to act, she said, describing Junts' comments as "not constructive."