Catalan president demands that Spain maintain total confinement
Quim Torra believes easing measures with hospitals "overloaded" and without mass testing is "reckless"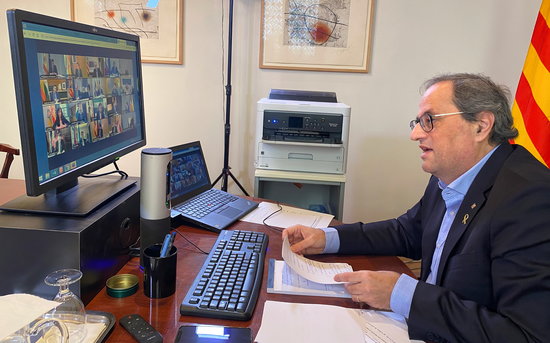 The President of Catalonia, Quim Torra, has demanded that the ongoing total confinement at home, excepting essential services, be maintained.
Given the current burden on hospitals, lifting confinement measures without performing mass tests on the population would be "reckless," said Torra during a meeting on Sunday with the Spanish president Pedro Sánchez, and the leaders of the various autonomous regions.
The Catalan government wants the easing of the lockdown in Spain to be "coordinated, well-planned, arranged with Catalonia, and effective."
Torra warned that the Catalan health system was in the midst of a "critical situation" with ICUs "at the limit" and hospitals "overloaded".
He complained that Catalan hospitals were lacking healthcare equipment such as personal protective equipment (PPE) and that, on top of that, more supplies were needed for care homes. Putting this down to the "failure" of the centralized supply system, Torra called for the return of powers to the Catalan government. Spain took over key Catalan services following the declaration of a state of alarm on March 14.
The Catalan government supports the extension of the state of alarm , but Torra emphasized that total confinement, except for essential services, must also be extended. Answering questions at a press conference on Saturday, Sánchez had said that the "total stoppage" would not go on beyond Easter.
Torra also proposed the creation of a universal basic income, more measures to support companies and freelancers, and that each autonomous region create its own covid-19 app and share data.
Isolation facilities
The Spanish government meanwhile has said that it is looking for facilities to house people who have coronavirus but do not show any symptoms. In their daily press briefing on Sunday, the executive said they are already working on a test to detect asymptomatic cases.
María José Sierra from the health emergencies center also said that face masks would be crucial during a future "de-escalation phase" to prevent the spread of coronavirus.