Coronavirus crisis shines spotlight on elderly care homes
362 senior residents have died due to covid-19 so far as management of caring for older generation tests Catalan authorities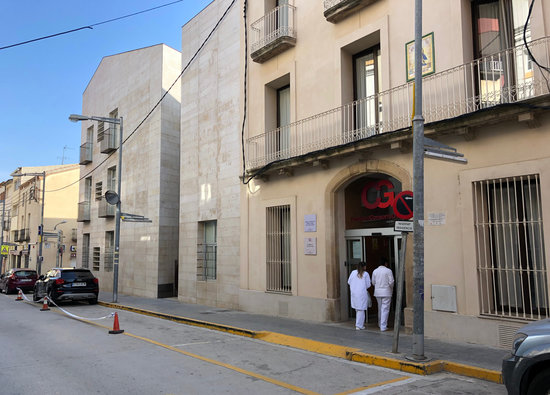 Some 362 elderly people living in care homes have so far died due to covid-19, with another 830 residents infected with the virus and 189 residents admitted to hospital. To date, the virus has affected 30% of elderly care homes in Catalonia.
That is according to the Catalan government's social affairs department, which on Wednesday said the main problem affecting elderly care homes at the moment is a lack of staff, with over 3,000 out of 75,000 care workers in preventive isolation.
In order to remedy the situation and prevent Catalonia's care homes - which together house some 64,000 old people - from becoming overwhelmed, the government is urgently looking for more staff to replace those who are out of action.
"At least" 50% more deaths than official figure
However, the government's data have been questioned, with the Ascad association that represents care workers on Wednesday saying that the actual number of deaths in elderly care homes is "at least" 50% higher than the official figures.
While deaths have been registered in care homes all over the country, one of the most serious cases is the Casa Asil care home in Barcelona, which since March 11 has seen 31 deaths, although only six have been confirmed as due to coronavirus.
On Tuesday, the Catalan health minister, Alba Vergés, admitted that making an exact count of coronavirus victims is difficult. "We've always said that these data are not automatic," she said, pointing out that the only precise numbers on fatalities come from hospitals.
Barcelona mayor urges authorities to act "more quickly"
The government is under pressure over its handling of elderly care homes, and a few days ago, Barcelona mayor Ada Colau urged the authorities to act "more quickly" in providing staff. Over half of the city's 260 homes have at least one confirmed covid-19 case.
In the past few days, many elderly residents have been moved out of care homes to hotels adapted to keep them safely in isolation, while a number of homes have been disinfected by firefighters and emergency units of the armed forces.
The seriousness of the situation in care homes has also led the government to intervene in some cases. For example, last week, an entire team of 30 care workers was replaced in a home in Valls, where an outbreak led to 10 confirmed cases out of 60 residents.
This week, the Catalan authorities took charge of another care home, in Sant Adrià de Besòs, near Barcelona. Fourteen of the center's 20 residents have covid-19 symptoms, while 15 of the carers are either currently off ill or did not turn up for work.
Prosecutor investigates 22 care home deaths
Conditions in elderly care homes came under the spotlight last week when the chief public prosecutor in Catalonia ordered an investigation into 22 deaths due to covid-19, some 13 in a home in Capellades, and 9 in a home in Olesa de Montserrat.
That decision came after reports that members of the armed forces found elderly residents "totally abandoned" in some care homes in Spain, and in some cases living alongside "people dead in their beds," in the words of defense minister Margarita Robles.
Minister comments on emergency services document
On Wednesday, the health minister also responded to more controversy over a recent emergency services document that recommends "avoiding hospitalizing patients who will not benefit" from treatment.
According to Vergés, many doctors have pointed out that triage of patients is "usual practice" and said that were treatment options are concerned, "clinical criteria always prevail and doctors can decide what is best."