Spain to extend state of alarm until April 26
Two-week prolongation expected to be confirmed by Congress vote, but "total stoppage" won't go on beyond Easter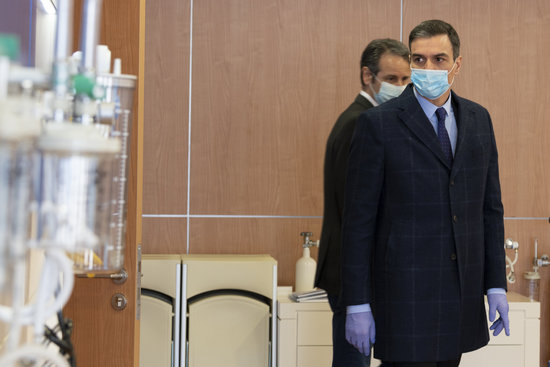 Spanish president Pedro Sánchez has decided to extend the state of alarm by a further two weeks until April 26.
Sánchez made the decision on Saturday after discussing with his scientific advisers how the coronavirus pandemic was developing.
As of April 4, Spain had recorded almost 125,000 cases of covid-19 and just under 12,000 deaths, with approximately one fifth of them occurring in Catalonia.
According to the Spanish constitution an extension of the state of alarm must be approved by a vote in Congress, which should pass easily given that the opposition People's Party has said it will support the government's proposal.
A state of alarm across Spain was announced on March 14. It was extended following a vote in the early hours of the morning of March 26, with Catalan pro-independence parties abstaining over the Spanish government's refusal to implement the total quarantine of Catalonia.
Confinement measures have helped
The Spanish president made a statement on Saturday afternoon saying that, despite the high numbers of covid-19 cases and fatalities, the confinement measures have helped, pointing out that daily increases in covid-19 cases have fallen from 20% to 6%, and that almost 40,000 patients have recovered.
Sánchez warned that less covid-19 cases won't mean end of the crisis. "As soon as we flatten the curve, we must continue with the same strength. The second stage will be the gradual return to a new social normality and the reconstruction of our economy."
Alluding to the possibility of more extensions following this one Sánchez said that "everything will not be over by the end of April," but he clarified that the "total stoppage" will not go on beyond Easter.
From this we can expect that some non-essential businesses will be able to resume operations.
Moncloa pacts
The Spanish president also spoke of the need for "reconstruction" when the health crisis ends. "All parties are going to work on some new Moncloa pacts. We are going to speak with all political forces to move forward."
The first Moncloa pacts were agreements made by most parties in 1977 during Spain's transition to democracy after dictator Franco's death.