Barcelona Airport expansion: Spain says 'ball is in Catalonia's court'
Catalan president Aragonès urges Spanish government to contact him if they have "anything to say or propose"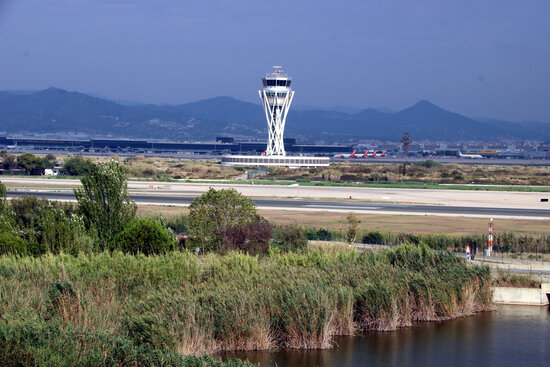 The Catalan president Pere Aragonès has called on the Spanish government to contact him if they have "anything to say or propose" about the plans – currently on ice – to expand Barcelona Airport.
His comments came after a flurry of media reports and interviews on the subject involving several members of the Spanish cabinet, including vice president Nadia Calviño saying "the ball is in the Catalan government's court," during an interview with Telecinco on Monday morning.
Calviño claimed that the Catalan cabinet was "not very clear or mature" on the issue, while she defended the Spanish government's "coherent position" in favor of airport expansion, despite fears from environmentalists over the destruction of the nearby La Ricarda lagoon. "We are always open to talk and dialogue," she added.
Her cabinet collegue, transport minister Raquel Sánchez, told Radio 4 that it was "logical" that the subject of expanding Barcelona-El Prat would form part of the upcoming negotiations between the Catalan and Spanish excecutives, even though it is not designed as a forum for discussing infrastructure.
Later on Monday, Raquel Sánchez said that she believed that extending the talks on the expansion of Barcelona airport for another year "would create more problems than benefits," saying that the Spanish government "has been explaining [the project] for two years."
"Spiral of statements"
With speculation on the airport in overdrive – including a report in La Vanguardia claiming that discussions could go on for another year before a decision has to be made – Aragonès said that it was a sufficiently "serious" issue not to enter into a "spiral of statements" in the media. "It can't be resolved like that and I won't get into it," he said.
On Wednesday, Spain suspended the €1.7bn expansion plans over a lack of support from the Catalan government, but Catalan authorities claimed the decision amounted to "blackmail" and said it showed "the Spanish government doesn't deliver on its promises to Catalonia."
August passenger numbers show signs of recovery
August passenger numbers for Barcelona Airport are much higher than last year, but still far from pre-pandemic levels.
A total of 2,853,548 travelers used the airport during the month of August, 47.3% fewer than in August 2019, but a 156.9% increase compared to August 2020.
The aiport registered 21,857 operations, ie take offs and landings. This was 33.1% less than in August 2019 but 55.6% more than last year.
Freight traffic showed a similar pattern. It rose 30.5% this year compared to last year, to 10,604,259 tonnes; still 19.6% below pre-pandemic levels.
Looking at the year so far, Barcelona-El Prat has had 8,956,099 passengers between January and August, 13% less than in the same period last year, and 74.8% less than the first eight months of 2019.
The total number of flights so far in 2021 is 85,514, some 5.7% less than in 2020 and 63.1% less than in 2019.
The fall in freight transport is less pronounced: between January and August the airport recorded 84.1 million tonnes, 15.3% more than in the same period last year and 25% below 2019 levels.