What are the latest Covid-19 measures in Catalonia?
Face masks obligatory indoors, and in outdoor spaces when distances cannot be kept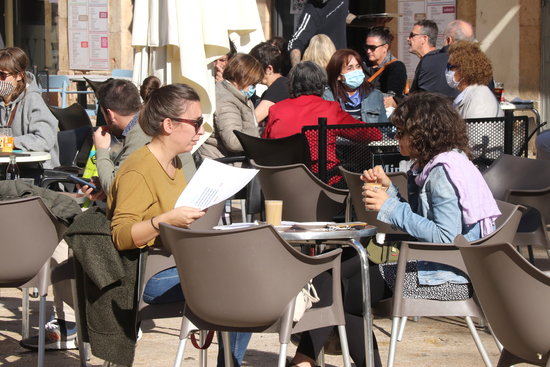 After an unprecedented surge in Covid cases around New Year, Catalonia has now passed the peak of the sixth wave. Therefore authorities have been loosening restrictions since January 21, when curfew was lifted.
Face masks are no longer compulsory outdoors across Spain, as decided by the government in Madrid. They remain obligatory indoors for everyone 6 and older, as well as in outdoor spaces when distances could not be kept. This could change soon, as Spain's PM, Pedro Sánchez, hinted on February 28. No quarantines now apply to close contacts of Covid-19 positives, even if they are unvaccinated.
The Catalan health department is also softening measures, with no capacity restrictions or opening times limits, and with nightclubs reopening as of February 10 at midnight into February 11.
Measures in force until April 28
Check out our guide to the Covid-19 restrictions that will be in place in Catalonia until at least April 28:
Health passes. A Covid certificate demonstrating proof of vaccination, recovery from the virus, or a recent negative test is not required to enter any venue or establishment, but it may be needed for traveling abroad.
Face masks. Must be worn by everyone 6 and older in all indoor places open to the public, and also outdoor areas when distances cannot be kept.
Gatherings. No restrictions apply, but between 1am and 6am food and drink must not be consumed in groups in public places, and drinking alcohol in groups in public spaces is prohibited all day.
Restaurants. Tables have to maintain a 1.5-meter separation from each other and recommended maximum of people in a single group is 10, but no obligation applies. No capacity restrictions or altered opening times apply. Dance floors in restaurants must remain closed.
Hotels. Events in hotels with dance floors cannot take place, but hotels remain open.
Stores and malls. No restrictions apply, except for prohibition to sell alcohol from 10pm to 6am.
Cultural activities including concerts. No capacity restrictions apply. All shows must take place with the audience seating, both indoors and outdoors.
Leisure and recreational activities. No capacity restrictions apply.
Casinos and bingo halls. No capacity restrictions apply.
Nightclubs. Reopen with no capacity or opening times restrictions, but with face mask compulsory indoors.
Civil and religious ceremonies. Venues must be adequately ventilated for events including weddings, funerals, or religious events. No capacity restrictions apply.
If over 1,000 people are in attendance, authorities recommend increased ventilation and entry control.
Gyms, sports venues and competitions. No capacity restrictions apply.
Venues must be adequately ventilated, access must be controlled, and those who use the facility need to register and wear face masks except for when swimming.
Education and educational activities. 100% in-person learning at pre-schools as well as primary, secondary, pre-university, trade schools, and universities. Self-isolation protocol applies. Learn more here.
Work and professional activities. Workers are advised to work from home when possible.
Face mask use is mandatory.
Fairs and trade shows. Venues must be adequately ventilated.
Public transport. All lines must run as usual. People are advised to avoid rush-hour commutes and face masks must be worn at all times.
Smoking. Smoking in public places or in outdoor spaces is not allowed when 2-meter distances cannot be kept between people.
Spectators cannot smoke in outdoor venues.