Spain to lift quarantines for Covid close contacts from Saturday, including unvaccinated
PM Pedro Sánchez avoided setting a date on when the mandatory use of face masks indoors will be removed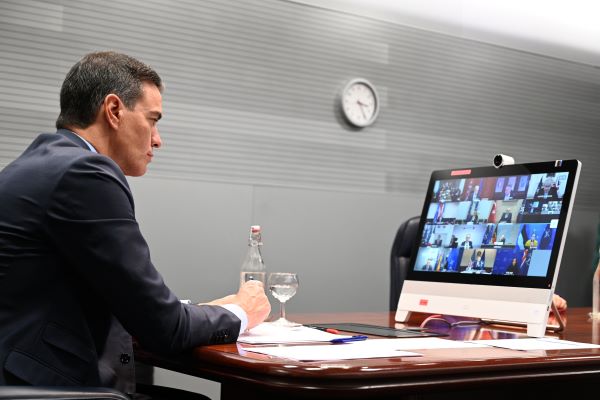 Spain will lift quarantines for Covid-19 close contacts from Saturday, even if they are unvaccinated.
The public health committee, participated by the government in Madrid and regional cabinets including Catalonia's, made the decision on Tuesday evening.
Spanish Prime Minister Pedro Sánchez anticipated the news on Monday evening in an interview with Spanish public broadcaster TVE.
The leader also avoided setting a date on when the mandatory use of face masks indoors will be removed, after they have already been removed outdoors.
As he has done on other occasions before health authorities took significant steps to scale down pandemic restrictions, the Spanish PM that "very soon" there will be a debate on the question, and that the opinion of the health sector will be taken into account.
On Tuesday, Catalan government spokesperson Patrícia Plaja said that the executive approved of Sánchez's move to lift quarantines for close contacts, as well as initiating the debate of removing face masks indoors.
Plaja, who added that the Catalan government wants the decisions to be taken "in a coordinated manner," is confident that the pandemic trends will allow society to move towards this scenario soon.
Masks to be first removed in schools in Catalonia
In early February, Catalan health authorities already announced that the first indoor environment to see the obligatory wearing of masks lifted would be schools, starting with younger pupils.
On Monday, the health minister, Josep Maria Argimon, announced that the lifting of the measure would be applied to the general population around a month after it happens in schools.
Argimon said he thought all other regions could be "persuaded" to back this strategy to ease the restriction.
He did, however, say that it would still be advisable to wear masks on public transport and for people who are deemed to be at-risk to keep them on too.
The pandemic situation has been improving quickly in Catalonia over the past few weeks, with the numbers of patients both hospitalized from the virus and those requiring intensive care reducing significantly.