State of alarm and curfew come to an end in Catalonia after 195 days
Heavy police presence during first night without lockdown as large gatherings of young people drinking in public seen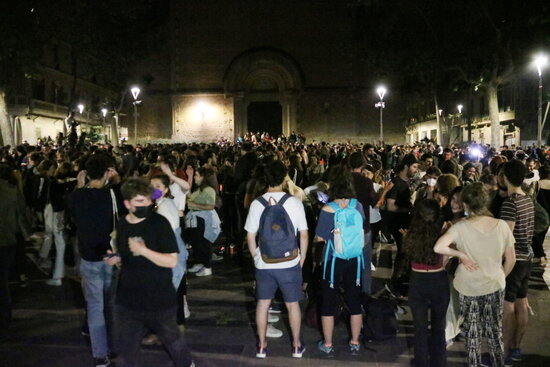 195 long days and 195 nights of unprecedented restrictions to fundamental rights to fight against the spread of Covid-19 have just come to an end.
The state of alarm and curfew were lifted in Catalonia right as Sunday began, that is, on Saturday at midnight.
From this moment, people are no longer obliged to stay home from 10 pm to 6 am except for work, health and other basic reasons.
The new scenario prompted fireworks and cheers in the streets at midnight, when a lot of groups of mostly young people took to the streets in a cheerful mood to stroll, to celebrate, and some also to drink in public.
In Barcelona, crowds were seen in places such as Gràcia's neighborhood, where hundreds of people gathered to party and drink, some without face masks.
Indeed, authorities were concerned about potential crowds celebrating and gathering in the first night without curfew. Therefore, the Catalan and local police across the country have prepared presence equivalent to that of New Year's Eve and Sant Joan – the eve of June 24, a summer solstice celebration where bonfires and fireworks spread across streets, squares and beaches.
The Mossos d'Esquadra were expected to perform traffic tests of alcohol and drugs, and officers were set to monitor drinking in public – the so-called 'botellons', which are explicitly banned – and to prevent gatherings of over 6 people, which are still banned despite the end of the state of alarm. Riot police was also activated in "strategic places," such as Barcelona's Arc de Triomf.
The law enforcement said on Friday that they expect an "important increase" in mobility on Saturday night after a rare curfew of only 10pm to midnight.
Natural parks will be closed until Sunday at 8 am to prevent mass visitors in the wee hours.
Loosening of measures after state of alarm
The end of the six-and-a-half-month long state of alarm has not only carried the curfew being lifted. Catalonia's land borders opened at midnight, so free traveling any time of the day is allowed again.
Bars and restaurants will be permitted to close by 11 pm from Sunday, including both indoor and outdoor seating areas.
Amusement parks are now allowed to open at 30% capacity, while community center activities for the elderly, up until now capped at 6 people, will be extended to 50% capacity as long as venues are sufficiently ventilated.
Yet, the government decided to keep the 6-person cap on gatherings, something greenlighted by the Catalan high court.
Magistrates also approved a 50% capacity limit for religious ceremonies from Sunday.
These Covid-19 restrictions will be in place for 15 days until at least May 23, after which they may be extended or modified.
As the state of alarm is over, how will life be in Catalonia from now on? Have a listen to our latest podcast on measures, how the vaccine rollout is progressing, and what summer 2021 will look like.