High Court greenlights 6-person cap on gatherings from May 9
50% capacity limit for religious ceremonies once state of alarm comes to an end while groups of people also prohibited from eating and drinking in public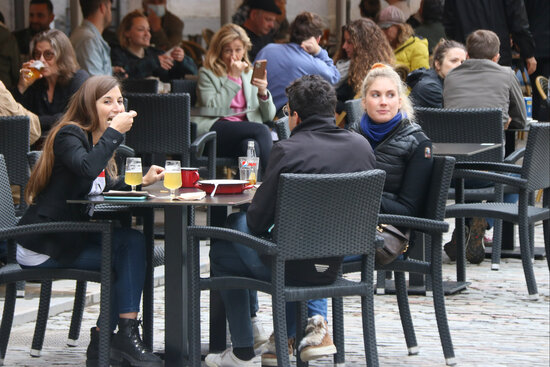 Catalonia's High Court (TSJC) has greenlighted the Catalan government's 6-person cap on gatherings from May 9.
It has also approved a 50% capacity limit for religious ceremonies from Sunday when the state of alarm comes to an end.
During the second Spain-wide Covid-19 state of alarm, regional governments such as Catalonia's were granted the power to enforce restrictions considered necessary to tackle the pandemic, but once it is up, those that are deemed to infringe upon individual freedoms and liberties as enshrined in the Spanish constitution will have to be backed by TSJC judges.
Groups of people will not be allowed to eat or drink in public either unless they are at a bar or restaurant.
Meanwhile, civil ceremonies will be capped at 500 attendees—this figure, however, can be increased to 1,000 if the venue is adequately ventilated or if the event is taking place outdoors.
Government officials explain measures
The Catalan government spoke of the post-state of alarm measures in a press conference on Friday not long after the High Court ruling, with officials stressing the need to remain vigilant in order to keep the virus at bay although a number of restrictions will soon be eased.
As outlined by interior minister Miquel Sàmper, from Sunday there also will no longer be a curfew in place, meaning that on Saturday night, people will be required to be home by 10 pm, but allowed to leave once again at midnight. There will be an increased police presence on the streets that night as well as random drug and alcohol tests on drivers.
On May 9, land borders will reopen, and stores will be allowed to operate from 6 am to 10 pm, while cultural and sports venues, in addition to bars and restaurants, will be permitted to close by 11 pm. The latter will be able to open both indoor and outdoor seating areas.
Amusement parks will be allowed to open at 30% capacity, while community center activities for the elderly, up until now capped at 6 people, will be extended to 50% capacity as long as venues are sufficiently ventilated.
These Covid-19 restrictions will be in place for 15 days until at least May 23, after which they may be extended or modified.
Vaccination campaign progress
Although "almost 30% of the population" have received one dose of a Covid-19 vaccine as of May 7—the exact figure is currently 26.7%—health secretary general Marc Ramentol believes the 6-person cap on gatherings is still necessary as generally more socially-active younger people are yet to be vaccinated.
Health minister Alba Vergés, who highlighted the fact that 50-to-59-year-olds have begun to receive their jabs this week, reiterated the goal to vaccinate 70% of the population by the end of July "as long as doses arrive on time."
2,061,744 of Catalonia's residents have had a first dose of the vaccine, while 954,316 (12.36%) have had two.