Restaurants' opening hours widened and capacity limits relaxed for shops and culture from May 24
Catalonia progresses in de-escalation of Covid restrictions as vaccine rollout reaches 30% of people with one dose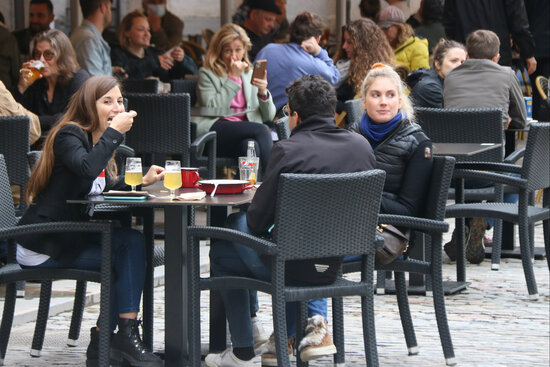 Bars and restaurants in Catalonia will have their opening hours extended from May 24, being able to start working at 6 am instead of 7:30 am, as Catalan authorities plan to further loosen the coronavirus restrictions.
Capacity limits in shops and universities will be raised from 30 to 50% and at cultural events from 50 to 70%.
The maximum number of people who can attend a cultural event will be raised from 500 to 1,000 indoors, and from 1,000 to 3,000 outdoors or in premises with proper ventilation.
While the 50% capacity limit for religious and sports events will remain in place, the maximum number of people in attendance will be the same as that of cultural venues.
Conventions and trade fairs can resume and will no longer require authorization from the Procicat civil protection body.
"A new outbreak is unlikely, so we're slowly easing restrictions," health minister Alba Vergés explained. "The situation will remain under control if we stay on this path."
Last Saturday, Spain's state of alarm came to an end after 6 months of tight restrictions, thus automatically lifting the nightly curfew and the ban on non-essential travel between regions.
30% vaccinated with one dose
Also on Friday, Catalonia reached the milestone of 30% of people inoculated against Covid-19 with one dose, as the vaccine rollout continues to speed up after months of difficulties.
By July, health authorities expect to start offering the coronavirus jab to all of the population under 40 years of age.
Over 14% of residents are now considered fully immunized, either with both doses, one shot of the Janssen vaccine, or else they've had Covid-19 before and were given one dose of an inoculation.
In absolute numbers, 2,359,667 already have first doses administered, and 1,112,265 people are fully immunized.
Last week, a record number of vaccines were given in Catalonia, with 414,638 doses given out.
It's expected that over the coming weeks and months, jabs will arrive to our shores in larger and larger numbers, allowing Catalonia to break the record for doses administered again and again as 70% immunization targets are reached.