Record 400,000 Covid-19 vaccine doses administered last week in Catalonia
50-59 age group immunization underway as health chiefs urge public to cancel appointments they can't make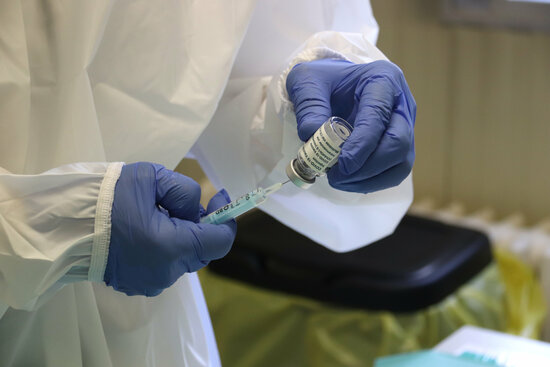 Health authorities have confirmed that last week saw a record number of Covid-19 vaccinations administered in Catalonia.
"Last week we broke the record for administered vaccines again, we exceeded 400,000 doses," Carmen Cabezas explained at a press conference on Tuesday afternoon.
In fact, 414,638 doses were given out between Monday, May 3, and Sunday, May 9, an increase of over 35,000 on the previous week's 378,883 doses, which was also a record.
The rollout is expected to continue picking up speed, with people in the 50-59 age group also able to get their jab as of Monday, May 10.
"In the 50-59 age group, we are using Pfizer vaccines and, in some cases, Janssen and Moderna vaccines," explained Cabezas, deputy head of health promotion.
Cancel appointments
Health chiefs are also urging people who are unable to attend their vaccine appointments to cancel. Between 8 and 10% of people who have made an appointment online for one of the mass vaccination sites do not show up.
"It's a very serious problem not to go to an appointment," said the Public Health Secretary, Josep Maria Argimon, who explained that it was particularly important with the Pfizer vaccine, because, "when you thaw it, it only has a safe shelf life of five days."
Argimon also outlined the positive effect vaccination is having on the spread of Covid-19.
"In the last week we have gone from stagnation to a significant decline. From 10,000 to 7,500 cases of Covid detected. This is also reflected in the Rt [transmission rate], the outbreak risk and, slightly, in patients admitted to the ICU."
"We're going in the right direction," he added, "but we're in a long-distance race."
Milestones
Looking ahead, Argimon said that by "mid-June, 75% of people most likely to be admitted to hospitals, people aged 50 or over, will be protected with at least one dose of the vaccine."
Another milestone that will be reached in the coming days is that one-third of the population over 16 will have had their first dose. As of May 10, the figure is 32.9%.